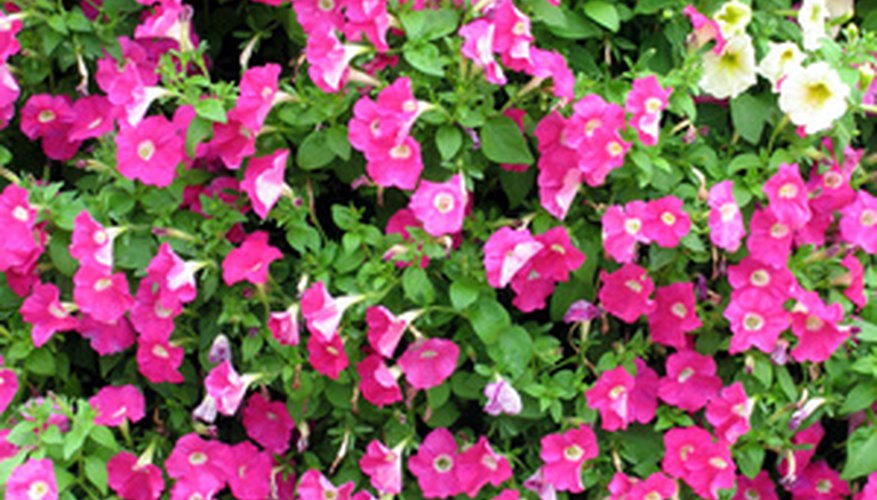 Petunias are a gardening favorite, known for their ease of care and abundance of bloom throughout the whole season. Hybrid varieties such as the Wave petunias have been created by growers for specific needs and are actually trademarked, so be sure that you purchase Wave petunia seeds from licensed retailers. Wave petunias are "offspring" plants, so any seeds collected from Wave petunias will not grow in subsequent seasons. While most gardeners purchase their Wave petunias as seedling plants, some prefer to grow them from seed, starting indoors in early spring.
Purchase Wave petunia seeds from a reputable dealer.
Prepare peat pots or tray, if desired, with a commercial seed-starting mix. Peat pots are biodegradable temporary pots made of porous peat matter and can be transplanted directly into the garden after the threat of frost has passed. Choose seed-starting mix that is lightweight with a slow-release fertilizer added. If you choose to skip the peat pots, you can fill your tray directly with the soil mix, but transplanting seedlings will take a little more care.
Sow the seeds on the surface of the starter mix. Petunia seeds are extremely small and can be difficult to maneuver. Pelleted seeds with a special biodegradable coating are available that makes handling easier.
Push the seeds down firmly into the soil with an unsharpened pencil or wood dowel. Do not cover with soil because petunia seeds need light for germination. Water lightly.
Cover the tray with a commercial greenhouse plastic covering, if available, or plastic wrap.
Place the tray in a warm, lit area with a constant temperature of 70 to 80 degrees. Place it in a sunny window or under fluorescent lights for best results. Avoid long periods of direct sunlight. Germination takes place in 10 to 12 days.
Remove plastic when germination occurs and keep the plants at normal room temperature. Allow plenty of sun and water, allowing soil to dry out completely between waterings to force root growth. Called "hardening off," forcing the roots to grow in search of water is vital to healthy full-grown plants. Wave petunias are ready for transplant outdoors when three fully-formed leaves are present. Continue to care for the plants indoors until after the danger of frost in your growing zone has passed.
Move plants outdoors after the threat of frost has passed in your growing zone for a few days to help acclimate them to the climate before transplanting to the garden.