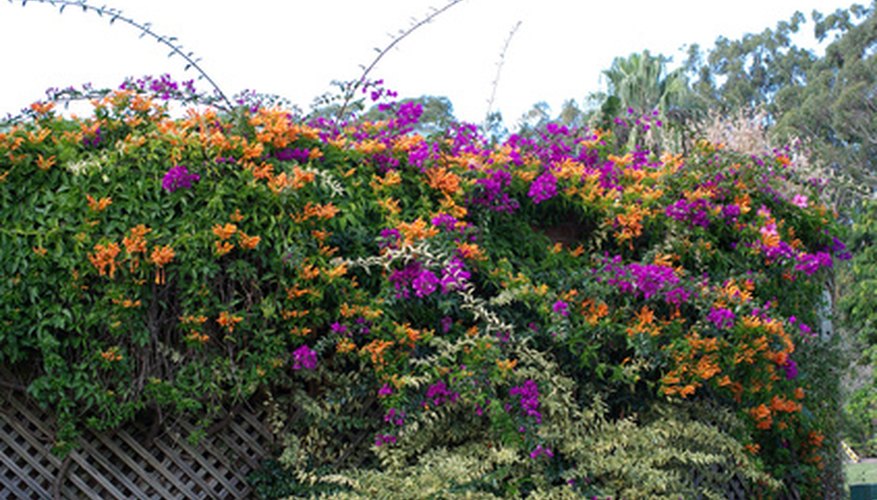 When a gardener wants to add a large splash of color or to create a screen to block out sun, neighbors or an unwanted view they often turn to fast growing vines. Many of these vines can create beautiful flowing landscapes in colors that vary widely; attracting wildlife, butterflies and hummingbirds into a welcoming garden.
Kudzu Vine
The kudzu vine is one of the most aggressive vines in the Southwestern United States growing so quickly that it can overcome entire trees and buildings in weeks.
Chinese and Japanese Wisteria
Chinese and Japanese wisteria vines grow rapidly to heights of more than 70 feet and curl themselves tightly around trees, choking them after several years. The vine produces beautiful clusters of variegated purple to white flowers that drape down the vines with a waterfall appearance.
Flame Vine
Flame vine is a very fast-growing vine that is somewhat invasive and shouldn't be planted near trees but makes a good screen cover for use on pergolas or chain link fences and produces slender, tubular bright orange flowers.
Painted Trumpet Vine
The painted trumpet vine is a fast-grower that produces yellow flowers with lilac stripes and is often used along fence lines and for screen cover.
Bejuco Colorado
The bejuco colorado vine is a vigorous grower that produces a flower that is variegated lilac to white with a yellow throat.
Passion Vine
There are several variations of the passion vine, all of which are a popular option for many gardeners because of their fast-growth and attractive flowers.
Clematis Vines
A very popular vine that produces flowers in a variety of colors is the clematis vine. Grown in a multitude of suburban yards, this vine is chosen for its ability to cover a large area quickly and for the full, colorful blooms it produces.