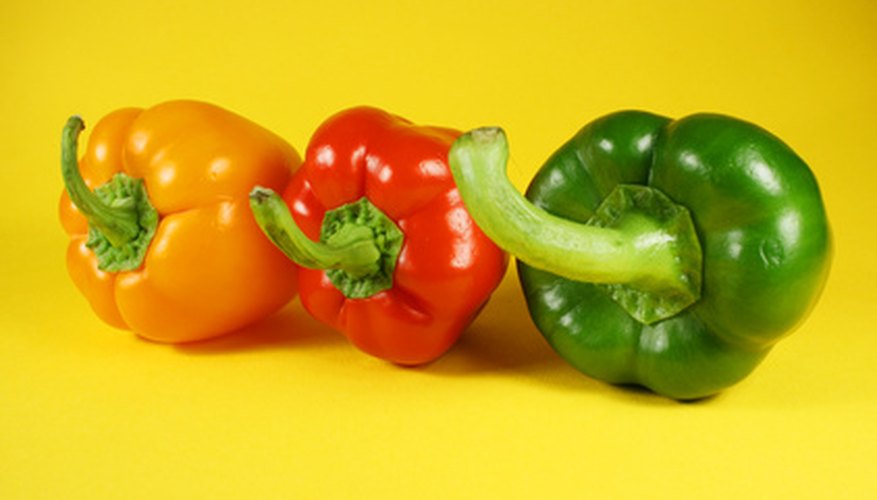 United States Department of Agriculture (USDA) hardiness zone 9 weaves through Southern Texas and Central Florida, and includes the cities of Houston, Brownsville, St. Augustine, Fort Pierce and Orlando. In these hot zones, pepper plants can live for many years, acting as perennials. Mulch will especially benefit peppers grown in zone 9 because it keeps their roots cool and moist.
Big Bertha
These hybrid sweet bell pepper plants bear elongated four-lobed, 6- to 7-inch by 4-inch fruits, green and glossy, and maturing to red. Plants resist tobacco mosaic virus. The productive Big Bertha plants need support to avoid side stems breaking off. Fruits feature very thick walls, and leaves provide excellent foliage cover, according to North Carolina State University.
California Wonder
Plants bear blocky, firm-walled deep-green fruit featuring three or four lobes and measuring 4 inches square. Fruits mature in 68 to 69 days, ripening to red after 72 to 73 days. Many nurseries carry this variety in plant packs.
Red Knight
The strong compact Red Knight plants bear blocky green fruits measuring 4 ½ inches square with thick walls. The fruits ripen in 68 to 69 days and mature to intense red. Red Knight resists viruses, bacterial leaf spot and tobacco mosaic. Home gardeners on Cornell University's "Vegetable Varieties for Gardeners" website praise this hybrid's flavor, color and yields.
Jupiter
The Jupiter sweet bell cultivar resembles Red Knight in fruit sizes and disease resistance and ripens in 70 to 74 days. Home gardeners report good flavor, especially for roasting.
Golden Summer
For gold-colored peppers, try Golden Summer, which matures in a speedy 67 days from lime green fruits to bright gold. Golden Summer resists tobacco mosaic virus and wins praise for its flavor and production.
Purple Belle
Also known as Purple Bell, this hybrid sweet pepper bears mostly four-lobed, blocky fruit that ripen from green to deep purple and red at full maturity at 72 days.
Double Up
Commercial growers looking for high yield can plant Double Up, a hybrid that ripens to medium large, three-to-four lobed green-red fruits in 69 to 80 days, and offers resistance to tobacco mosaic virus and bacterial leaf spot.