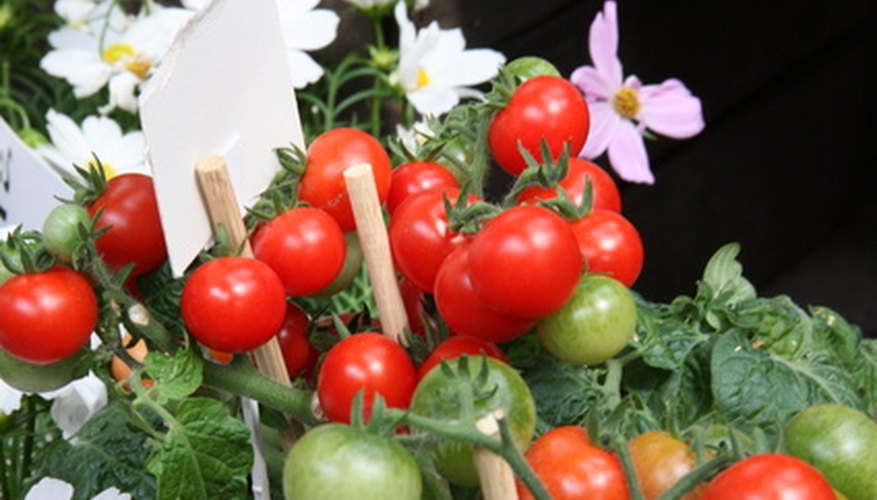 Often the home gardener's first choice for home-grown vegetables is tomatoes. A versatile plant, tomatoes grow easily in containers with the proper amount of sunlight and water. Growing tomatoes in containers allows you to have fresh ripened tomatoes right off the vine even if you lack a large garden site.
Select a deep container with drain holes to grow tomatoes. Use a drill to make several drain holes in the bottom if the container does not have pre-drilled holes.
Fill the growing container with potting soil to a level 3 inches below the rim. The extra space allows for watering when the tomato plant grows. Place the container on the plant dolly to allow for moving the container when necessary.
Choose a variety of tomato plants which grow and produce well in your growing area. Avoid tomato plants with blooms or fruit. Tomato plants do not have sufficient nutrients to provide both the fruit and the root system with proper nutrition. Plant one plant per container deeply so the bottom leaves are only 1 to 2 inches above the soil's surface.
Push a garden stake along side the tomato plant just after planting to avoid damaging the roots later in the growing season. If you prefer to use a cage, place the cage around the plant at this time.
Water the plant thoroughly and place the growing container in bright sunlight. Water the tomato plant each morning at the rim of the container. Avoid watering over the leaves, as the water droplets may cause sun scorching on the leaves.
Prune the tomato plant to remove suckers and keep the plant's energy concentrated on producing fruit. Do not remove leaves when fruit starts developing. Pick the tomatoes as they ripen to keep the plant producing as long as possible.
Things You Will Need
Large container (5-gallon or larger)

Quality potting soil

Healthy tomato plants

Garden stake or tomato cage

Drill (optional)

Plant dolly
Warning
Removing leaves to expose the fruit to the direct rays of the sun results in sun scorch on the tomatoes, making them inedible.