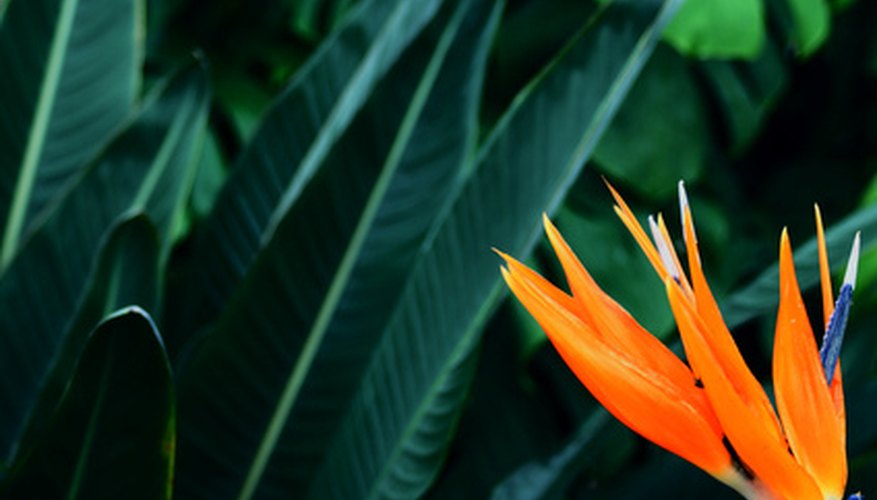 Few plants can rival the bird of paradise (Strelitzia reginae) for its bright orange-and-blue blossoms that look like parrots' heads. Though the bird of paradise is native to Africa, it's now grown throughout USDA Hardiness Zones 9 and higher, according to the University of Hawaii. Despite its ornamental value, you may have to kill and remove the bird-of-paradise plant if it outgrows your yard or to make room for other plants.
Cut back the bird of paradise plant's dense stem and foliar growth using pruning shears, or a saw for larger stalks. Trim it down to a couple of inches above the ground.
Collect and discard the trimmed plant parts. Or chop the bird of paradise plant stems and leaves into inch-long pieces and add it to your compost pile.
Dig out the remaining bird of paradise stump with a spade, working the spade in a circle around the base of the stump to loosen it. As a low-labor alternative, treat the stump with a triclopyr-based or glyphosate-based stump killer herbicide. Apply the herbicide to all exposed surfaces of the freshly cut stump according to its labeled guidelines since toxicity varies widely by brand. This kills the stump and keeps the bird of paradise from resprouting.
Things You Will Need
Pruning shears or saws

Spade or herbicide
Warning
Exercise caution when handling all sharp gardening tools and herbicide products.