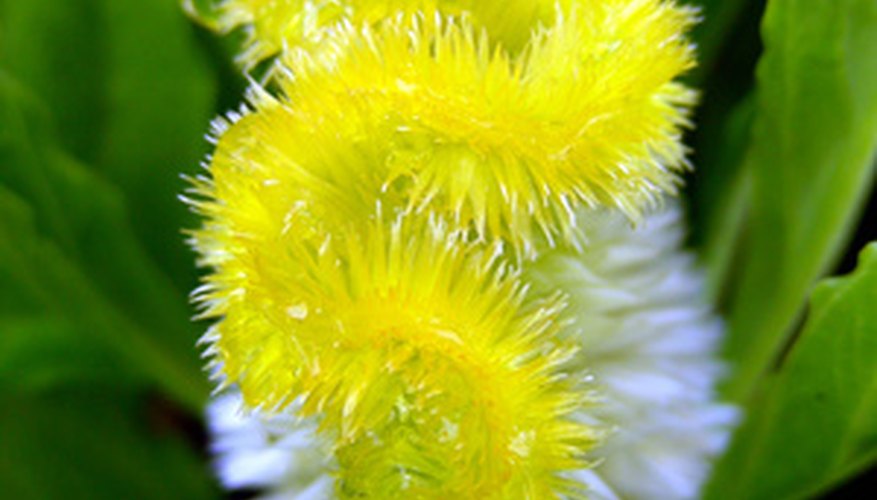 Celosia (Celosia argentea) is an eye-catching annual flower, available in petite dwarf varieties as well as imposing types that can grow up to 3 feet tall. Celosia is stunning in the flower bed or a patio container but also works well in cut flower arrangements and can easily be dried for use in wreaths or other crafts projects. Celosia will be happy with few requirements other than adequate moisture and plenty of bright sunlight. In return it will produce bright and fuzzy red, orange, purple or yellow plumes from summer through autumn.
Plant celosia in bright sunlight and well-drained soil that has been cultivated to a depth of 6 to 8 inches and amended with 2 to 3 inches of compost or manure. Celosia can be planted by seeds directly in the garden or started indoors four to six weeks before the last freeze.
Pinch off the first celosia flower on each plant to promote lush, bushy plants. After pinching the initial bloom, remove spent blooms as soon as they wilt to promote continued blooming.
Feed celosia every two to three weeks with an all-purpose granular or liquid fertilizer. Use the fertilizer according to the directions on the fertilizer container.
Water celosia regularly. Keep the soil moist, but never allow the soil to become soggy.
Things You Will Need
Celosia seeds

Compost or manure

all-purpose granular or liquid fertilizer
Tip
If you don't want to plant seeds, celosia bedding plants can be purchased at garden centers or greenhouses. Plant the bedding plants after all danger of frost has passed.