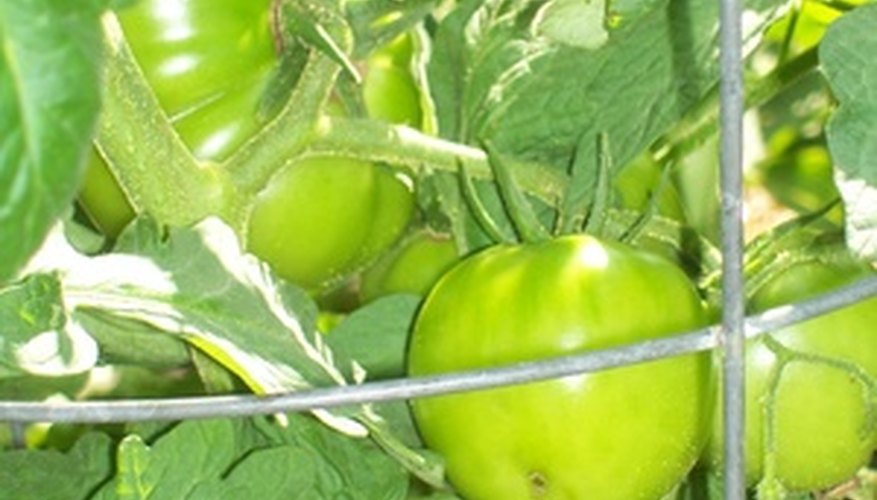 Tomatoes are the most popular home-grown vegetable in the United States, according to the University of Illinois Extension. With a taste that far exceeds what you can buy at a grocery store, it's no wonder home gardeners carefully tend to their tomato plants throughout the growing season. Gardeners who are new to growing tomatoes shouldn't fret because they are not difficult to grow as long as you provide the right conditions.
Select a site for planting your tomatoes. They need full sun and do best when planted clear of buildings and trees, according to the University of Missouri Extension. They can tolerate many soil types but do best in soil with a pH between 6.5 and 7.
Dig a hole slightly larger than the width and depth of the tomato's root structure using a trowel or small shovel. Tomatoes should be set in the ground at the same depth they were originally grown, according to the University of New Hampshire Cooperative Extension.
Place the tomato plant in the hole. Plants grown in peat pots can be set in the ground in the peat pot. Other tomato plants should carefully be removed from their containers before transplanting.
Spread 1 cup of fertilizer around the roots of the plant after it is set in the hole. Use a water-soluble high-phosphorus fertilizer such as 15-30-15, according to the University of Missouri Extension. Add 2 tablespoons of fertilizer to 1 gallon of water to create the solution.
Fill the hole with the surrounding soil. Pack it down firmly with your hands to ensure no air pockets remain. If you are transplanting tomatoes grown in peat pots, make sure the entire pot is underground after transplanting.
Water the tomato plant immediately after planting to remove air bubbles and allow it to begin establishing its roots. Tomato plants need between 1–2 inches of water each week, so be sure to water them regularly during dry spells.
Place a cage around your tomato plant or drive a stake into the ground behind the plant to provide support. If using a stake for support, place it 4 inches behind the plant and drive it into the ground at least 10 inches.