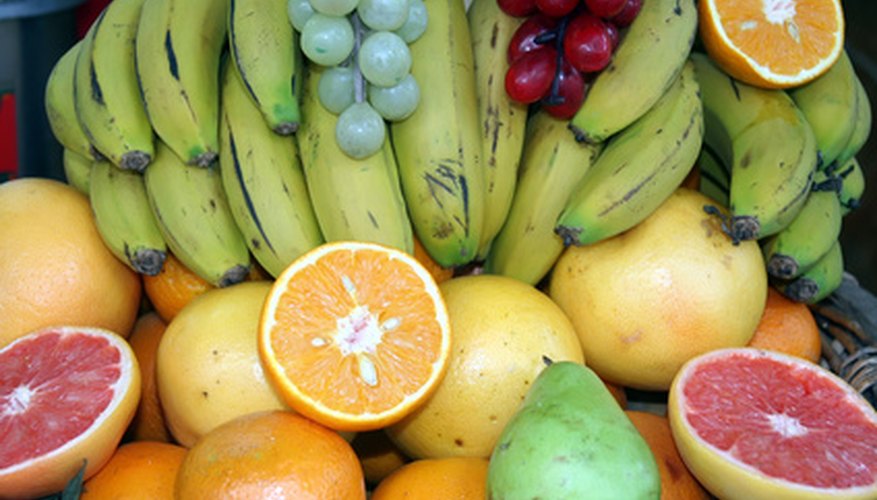 Cutting fruit into flower shapes, then using your fruit flower creations to make bouquets, centerpieces or baskets turns ho-hum fruit into fun conversation pieces. Select a variety of colorful fruit that is firm and not too juicy to make your fruit flowers. Your guests will be impressed, and they can munch on your creation, too.
With Cookie Cutter
Slice fruits like pineapple, watermelon, and large kiwi so that you have several round slices that are slightly thinner than the depth of your cookie cutter.
Position your cookie cutter so it is in the center of the round cut. For watermelon, you may need to place the cutter more to the side of center to avoid seeds. Press and cut out the shapes from the fruit.
Use a sharp knife to cut notches along the edge of some of the round shaped fruit pieces.
Scoop melon balls from cantaloupe and watermelon. Insert one end of a toothpick into the melon ball, then stick the other end into the center of your cookie cut fruit flower shapes.
Insert bamboo kabob sticks into the fruit flower to make a stem. The stems of your fruit flowers can be inserted into a sliced in half eggplant, or floral foam in a vase, for arranging your bouquet.
With a Knife
Slice your fruit, such as pineapple, watermelon, kiwi, lime and orange, so you end up with round sections that are around 1/2 inch thick.
Draw flower shapes on a piece of paper. Good flower shapes for fruit flowers are six petal flowers with big round petals or six-petal point petals. Tulip shapes are also good for watermelon.
Lay the paper pattern on one of the round. fruit slice. Carefully cut around your flower pattern with a sharp knife.
Insert a toothpick into one end of a purple or green grape. Stick the other end of the toothpick into the center of your cut-out fruit flower for the center of your flower.
Finish your fruit flowers by inserting bamboo kabob sticks for stems, then sticking the kabob sticks into a halved eggplant.
Things You Will Need
Assorted fresh fruit

Sharp kitchen knife

Cookie cutters (various sizes and shapes)

Mellon ball scoop

Toothpicks

Bamboo/kabob sticks
Tip
Fill in your fruit bouquet with large strawberries and stacks of grapes you have put on the kabob sticks. Parsley or lettuce leaves can also be used as filler.