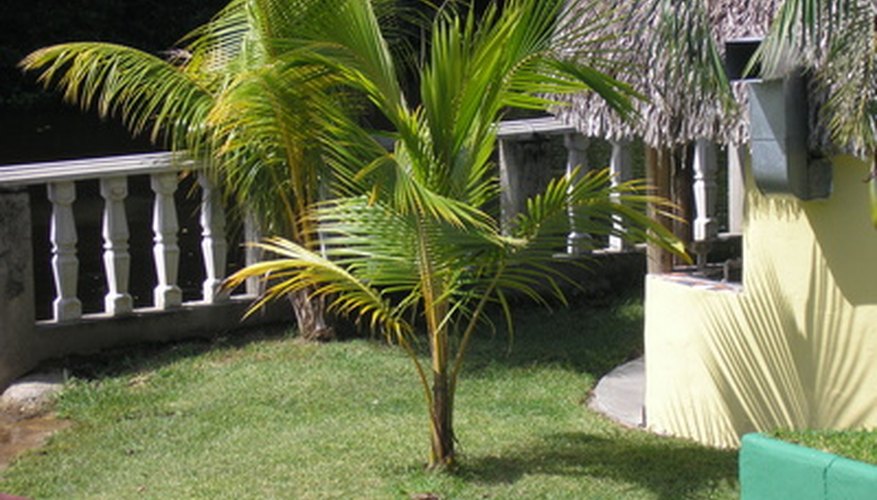 Often when visitors to Florida see palm trees, they feel like they're in a tropical environment--despite what the weather is like that day. Its no wonder that palm trees are a staple in many of Florida's landscaped yards and gardens. If you want a tropical feel in your Florida yard or garden, you have many palm tree varieties to choose from that grow well in your area. You also have the luxury of going straight to your local nursery to buy your palm trees, if desired.
Choose which kind of palm tree you would like to buy. Many varieties of palm trees grow well in Florida, including the Bismarck palm, the coconut palm, the queen palm and the Chinese fan palm, just to name a few. If you live in Florida's panhandle, which is USDA Hardiness Zone 8, be sure the palm you select is hardy to zone 8. Most palm are hardy in zones 9 and warmer.
Decide how many palm trees you want to buy. Palm trees grow to different heights and widths. Smaller palm trees may need as little as 12 feet of space, while larger trees may need 30 feet. Determine the mature width of the tree you chose in Step 1 to determine how much space each tree needs.
Select your palm trees from a local nursery since most Florida nurseries carry palm trees in stock. Hand-pick ones that look healthy, do not have browning or yellowing fronds. and appear to be insect- and disease-free on their trunks. Avoid trees with blackening flower stalks and soft trunks. On the other hand, you can select palm trees through a catalog or online nursery. Look into whether their trees come with a warranty to help you decide what company you would like to do business with.
Pay to have the trees installed, if desired. Many Florida nurseries, including catalog and online nurseries, have experts who can plant the trees for you. Local Florida landscaping companies also can handle this job for you. Again, look into whether there is any kind of guarantee with this service to help you choose the best company with which to do business.