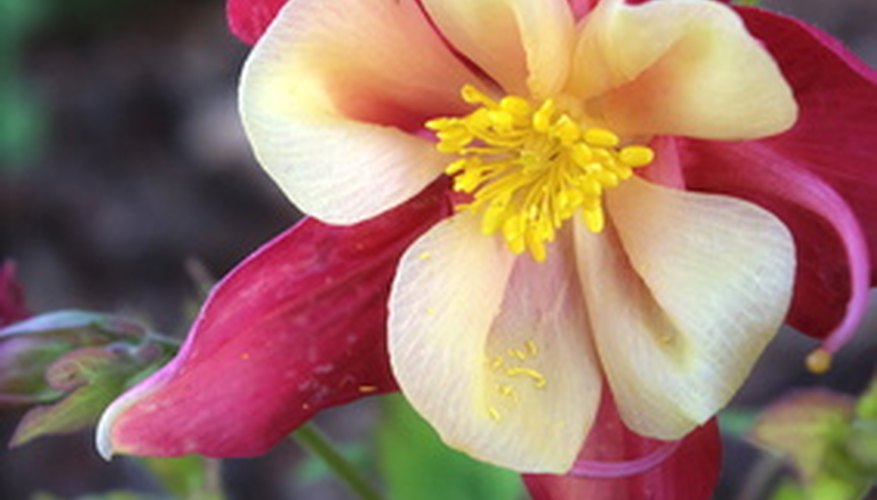 Creating a garden that attracts bees and butterflies isn't difficult; the secret is to focus on flowers that appeal to both. Most flowers that attract bees will also bring butterflies to the garden, says the Lady Bird Johnson Wildflower Center (LBJWC). A carefully planned bee and butterfly garden will be humming with bees and bright with colorful butterflies from early spring to autumn.
Eastern Red Columbine
A buttercup family perennial, eastern red columbine (Aquilegia canadensis) attracts bees, butterflies and hummingbirds. A shade-lover, it's native to America's woodlands from the eastern seaboard to the Rocky Mountain foothills. Nodding stems with airy clumps of grayish-green leaves stand 2 feet high. From as early as February to July, it has graceful, bell-shaped red and yellow blooms with nectar-filled spurs. Duskywing columbine butterflies lay their eggs on its foliage. Give it a shady, moist location with well-drained, neutral-to-alkaline (pH of 7.0 or higher) soil. Evergreen from minus 10 to 110 degrees Fahrenheit, it self-sows readily. Plants in very fertile locations, cautions the LBJWC, produce more foliage than flowers.
Golden Groundsel
Another shade-loving perennial, golden groundsel (Packera obovata) grows wild on wooded slopes and in limestone-base soils from New Hampshire south to Alabama and west to Texas. Colonizing by stolons (above-ground horizontal shoots), it forms an attractive ground cover. Clusters of yellow blooms appear on 18-inch stems as early as February in the southern U.S. and as late as June in the north, according to the LBJ WC. The nectar and color of the golden groundsel brings bees and butterflies to the garden. Plant it in partial to full shade, and organically rich, moist, well-drained loam or clay soil.
Blue Curls
Blue curls (Phacelia congesta) is a waterleaf family annual or biennial (a plant that blooms in its 2nd year). Standing 1 to 3 feet high, it's native to Texas, Oklahoma, New Mexico and Arizona. From March to May, its brittle stems bear dense clusters of lavender, lobed bell-shaped flowers above greenish-gray leaves. White anthers (pollen holders) on long stamens rise above the blooms. Bees and butterflies visit for the nectar, according to the LBJWC. Protect blue curls from western sun. It likes dry, gravelly, sandy or loamy soil.
Partridge Pea
A June-to-October blooming annual, partridge pea (Chamaecrista fasciculata) reaches 3 feet high. Its delicate leaves fold at the slightest touch. Orange sulphur and sleepy orange butterflies lay their eggs on its foliage. Other butterflies and bees feed on the nectar of its showy, red-splotched yellow flowers. Partridge pea likes sun to part shade and dry, sandy well-drained acidic (pH below 7.0) soil, according to the LBJWC.