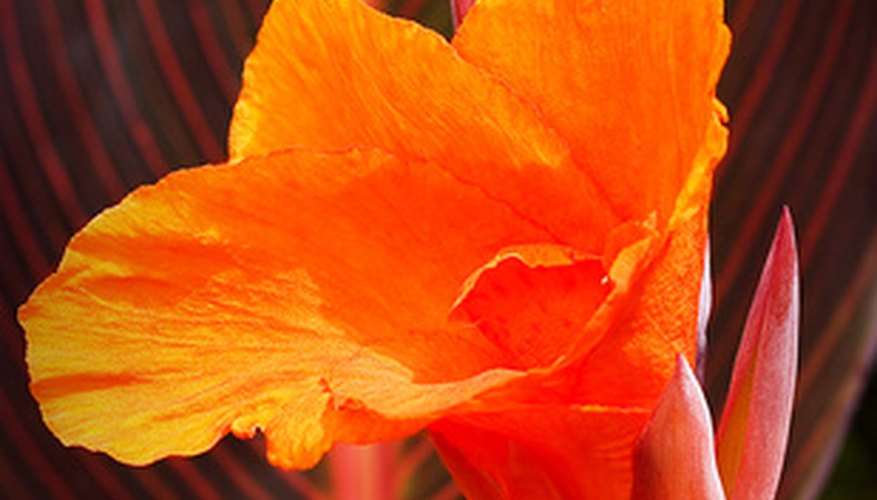 Just because the garden is small, doesn't mean you can't create an outdoor oasis to use for entertaining and relaxing. Fill the space with vibrant, fiery plants and flowers to create the tropical feel. Don't go overboard and plant too many; rather, start off slow and add more as needed. Have fun putting your personal touch within the space to create your own outdoor landscape design.
Plants
Bright tropical plants have the ability to withstand high heat while adding a burst of color to the garden. Their lush, jungly foliage adds dimension to the space. Grouping together tropical plants creates a display but without overpowering the space. Add in one larger sized plant to create a specimen plant within the garden.
For example, plant a trio of canna lilies in the back of the tropical garden to create a brilliant line of color to the space. Cannas provide bold splashes of orange, red and yellow. They also have a long blooming season from summer until frost, making for an ever-vibrant flower to grow in your the small tropical garden. A taller plant like an elephant ear, when strategically placed in the garden, creates the illusion of height within the space. Their dark green, heart-shaped leaves grow up to 3 feet long to create a striking display. Utilize vertical space like a garden wall or trellis by planting creeping vines like Carolina jasmine and vinca. Both have vibrant green leaves and a vigorous growth rate to cover the space in no time.
Water Feature
Nothing evokes the feeling of the tropics like trickling, cascading water. Nestled within the garden, a container water feature scaled to fit into the space creates a focal point to the small tropical space. Made in a wide range of materials including concrete and metal, they also help to water surrounding plants.
Around the water feature, plant thirsty plants like ferns to create the illusion of the feature shooting up from the earth. Ferns thrive in moist environments and help to create the island feel. Other water-loving plants like hostas are low-growing and don't take up needed space but bring in color around the water feature.
Seating
Extend your outdoor living space to the tropical garden. Add comfortable, weather-resistant outdoor seating to the garden to use for relaxing admiring the garden. Durable seating like a set of outdoor teak or metal chairs don't take up a lot of space but helps to create a tropical feel. Add a few tiki lanterns around the seating area to light at night for a magical glow. Along the seating area, fill a few containers with small bright plants like red cosmos and zinnia.