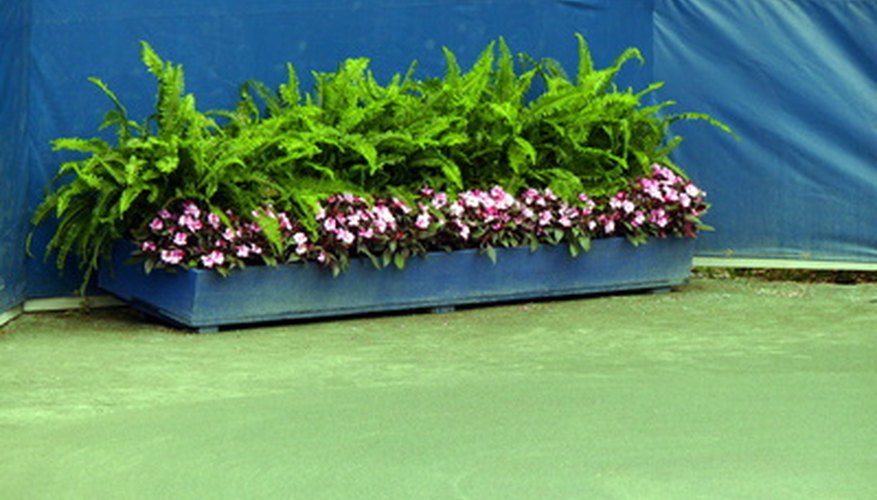 A planter box is generally made from wood. It is planted much in the same manner as any other planter, such as those made from terra-cotta, ceramic or plastic. The important first step of planting in a planter box is to make sure there are drainage holes at the bottom. Excess water needs a way to escape, so that it won't puddle at the bottom of the planter. Without these drainage holes, plant roots may rot. If the planter box you purchase does not have drainage holes, simply use your drill and round drill bit to randomly make holes at the bottom of the box.
Pour about an inch of gravel or stones into the planter box. This will assist in water drainage, as well as keep the soil from exiting through the drainage holes.
Look for a potting soil that has perlite and peat moss mixed into it. These ingredients will help hold onto the extra moisture outdoor potted plants require. Pour several inches of soil into the planter box. Place the nursery potted plants, that will go into the box, on top of the soil. You need enough soil so that the top of the original plant soil will set an inch or so down from the top of the planter box. Remove the pots and add or remove soil, as needed.
Remove the nursery plants from the containers. Place them onto the soil in the box. Pour handfulls of soil in between the plants (if more than one) and around them. Press the soil down with your fingers to compact the soil a bit. This will assure that the plants and roots have a good structure. Make sure not to add any additional soil over the top of the original plants. The original distance from plant to soil top is already established.
Water the plants generously, until water drips out of the bottom planter box drainage holes.
Things You Will Need
Wood planter box

Gravel or stones

Commercial potting soil

Plants
Tip
If you are planting a large planter box, it will be easier if you place it in the permanent location, before planting. It can be quite a strain to move a larger fully planted box.