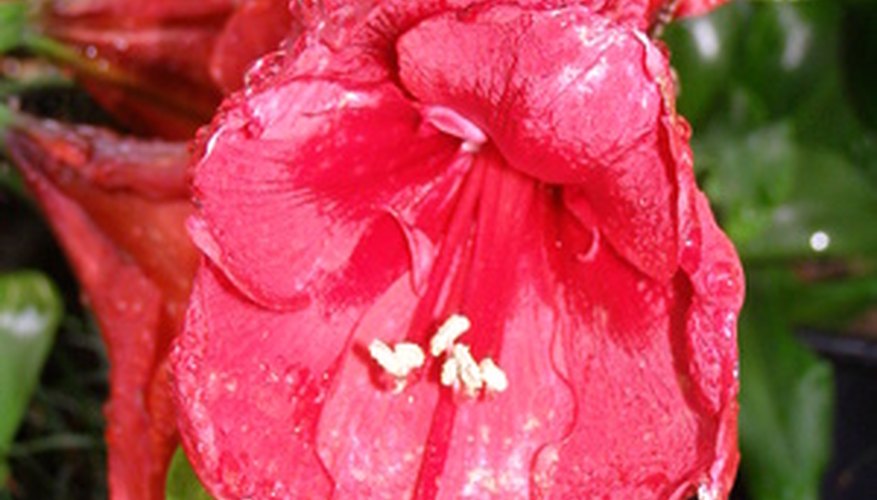 Amaryllis (Hippeastrum spp.) produces 6- to 10-inch trumpet-shaped blossoms in the spring. The red, pink, orange, salmon, white, striped and multi-colored flowers top a 2- to 3-foot leafless stalk. Strap-shaped green leaves grow 1-1/2 inches wide and 18 inches long. Amaryllis dies down to the ground in cold climates. The plants create a big impact when growing in clumps of 10 or more of the same color in a home garden. This tropical plant is used in foundation plantings, island covers, sloping ground covers and floral borders.
Plant amaryllis between September and January.
Remove grass, weeds, rocks and debris in an area that has light shade.
Loosen the soil to the depth of 12 inches with a shovel. Remove any buried rocks, root masses and sticks. Spread 3 to 4 inches of peat moss or compost on top of the soil. Mix this organic matter into the soil.
Add 2 to 3 lbs. of 6-6-6 slow-release fertilizer for every 100 square feet of planting area. Mix the fertilizer into the top 6 inches of soil. Rake the ground until it's level. Sprinkle the area with water until the soil is damp.
Dig a hole as deep as the bulb with a hand trowel. Place the bulb in the hole so that the neck of the amaryllis is above ground level. Firm the soil around the bulb so that it stays in place. Plant the rest of the amaryllis bulbs 12 to 15 inches apart.
Water the planting area until the soil is moist. Spread a 2-inch layer of sawdust or wood chip mulch around the amaryllis necks.
Things You Will Need
Shovel

Peat moss

Fertilizer

Rake

Hand trowel

Amaryllis bulb

Sawdust
Tip
Apply two to three applications of 6-6-6 fertilizer throughout the growing season, March through September. This encourages large blossoms and increased bulb size.
Warning
Remove the dying flowers to stop the production of seeds. If seed pods are allowed to form, flower production for next season is reduced.