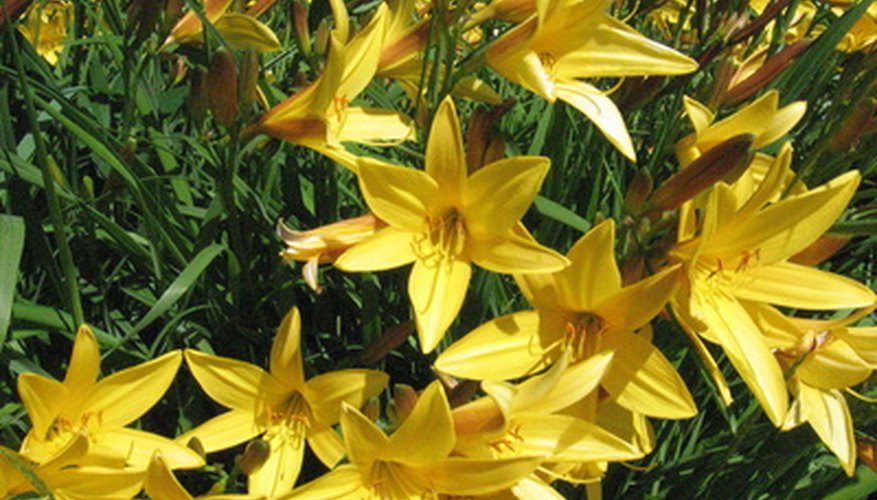 Lilies of all shapes, sizes and colors lend exotic flair to indoor containers, cut arrangements and flowerbeds. The Lilium genus is divided into nine categories, delineated by plant characteristics and parentage. Floridata notes that most lily varieties prefer slightly acid, nutrient-dense soil that offers good drainage. Lilies not only serve as decoration, but also are noted symbols of holidays and historic events throughout the world.
Asiatic
Asiatic varieties grow 2 to 3 feet in height and sport unscented blooms in colors ranging from pale whites and pinks to vibrant yellows and oranges. Asiatic lilies bloom in late spring and early summer and can also be forced to bloom at other times by freezing bulbs. Asiatic varieties, hardy in USDA zones 3 through 10, include Orange Rain, Landini, Sun Valley and Lollypop.
Martagon
Martagon lilies are known for their adaptability to nearly any soil type and preference for partial shade. This lily grows up to 4 1/2 feet in height, sporting blooms that face downward with upward-curling petals. Martagon varieties come in shades of pink, lavender, yellow and dark red, mottled with contrasting spots. It can take up to 12 months for Martagon lilies to become established in new locations; thereafter, blooming begins in June. Some popular cultivars include Mahogany Bells, Dalhansonii, Lilium tsingtauense and Nepera.
Candidum
Candidum lilies, also referred to as Madonna lilies, grow 3 to 6 feet tall and sport clusters of trumpet-shaped blooms in various shades of white. Blooming in late spring through summer, the Candidum hybrids prefer full sun to partial shade and can tolerate drier conditions than other lily varieties.
American
There is a vast array of American hybrids native to North America. Notable for their striking shape and color combinations, American hybrids grow readily in the wild, populating both wet and dry climates. Lilium philadelphicum, Lilium catesbaei, Lilium pardalinum, Lewisia and Lilium rubescens are just a few of the hybrids commonly found throughout the United States and Canada. American lilies grow on long, thinner stems with blooms consisting of upward-curling petals and long stamen that extend well above the petals. Bold color combinations, such as purple and gold or pink, beige and burgundy, have been developed through decades of experimentation.
Longiflorum
The Longiflorum hybrid, better known as the Easter lily, is one of the least outdoor-hardy varieties in the Lilium family. This Japanese native offers two to three elegant, elongated trumpet blooms, which emit a sweet fragrance from stark white petals and golden stamen, supported on sturdy stems with narrow foliage. According to the Texas AgriLife Extension Service, a short stretch situated at the California-Oregon border is the Easter lily capital of the world, producing nearly all of the potted Easter lily supply shipped throughout the United States and Canada each year.
Trumpet/Aurelian
Trumpet and Aurelian lilies grow from 3 to 6 feet in height, sporting massive, trumpet-shaped blooms in a stunning array of solid and variegated colors. Deep hues of purple, pink, tangerine and even green paint the fragrant petals. Lilies.org states that the Trumpet and Aurelian hybrids are derivates of Lilium luecanthum, Lilium regale, Lilium sargentiae, Lilium sulphureum, and Lilium henryi. Topsail, Elise, Midnight, Copper Crown and Lilium leucanthum are just a few of the Trumpet and Aurelian varieties that add striking color and form to the landscape.
Oriental
Oriental lilies, commonly referred to as "Stargazer" lilies, carry 6- to 8-inch fragrant blossoms in shades of red, purple, white, salmon and pink variegated blooms. UMass Extension advises that Oriental lily bulbs take up to 130 days to mature and cannot withstand more than 9 months of storage. Mona Lisa, Dizzy, Acapulco, Casablanca and Angelique are just a sampling of the Oriental lilies that grace gardens and containers.
Miscellaneous Lily Hybrids
Miscellaneous lily hybrids include those blooms that do not fall into any of the other groupings. These blooms are often blends of cultivars from different categories. Over time, the numerous experimental hybrids have produced sturdy specimens that are more heat and cold tolerant than other varieties.
Species
Anything in this category is a true lily, native to Japan, China, Burma, Europe, India and the United States. Often found growing wild, true lily varieties are more delicate in color and composition and are the basis for many of the hybrids found across the globe.