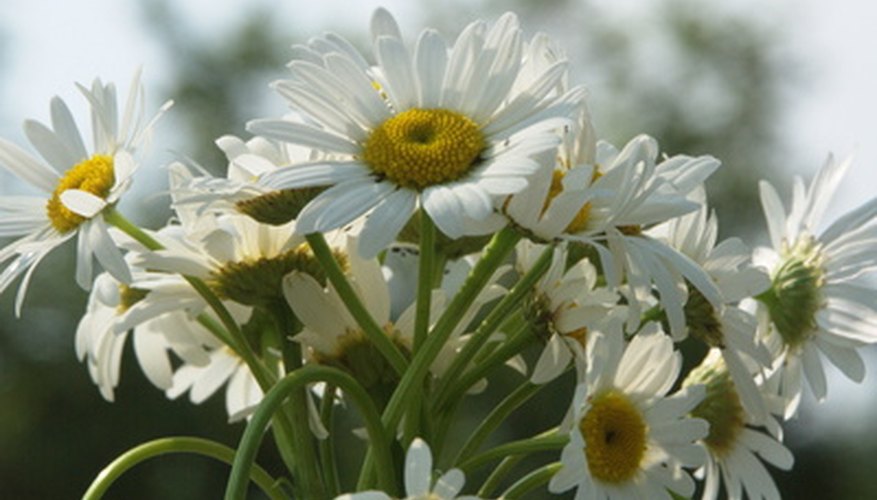 Fresh cut flowers are one of life's simple pleasures, adding color, charm and warmth to the indoors. Whether the fresh flowers are a gift from a loved one or blooms that you have gathered from your own garden, you'll want to preserve the life of the cut flowers as long as possible. Keeping the flowers fresh and lovely isn't difficult, and requires only a few minutes of your time.
Put fresh flowers in a vase that has been scrubbed in hot, soapy water. If the vase is difficult to clean, soak it in a solution of 1 part bleach and 10 parts water. Rinse the vase completely to remove any trace of detergent or bleach.
Fill the vase with warm water for most flowers. For bulb flowers such as lilies, tulips or daffodils, fill the vase with cool water. If possible, use distilled water to protect the flowers from salts and minerals in tap water.
Cut 1 inch from the bottom of the stem before placing the flower in the vase. Make the cut while holding the stem under warm running water, which will prevent the formation of any air bubbles that will block the movement of water up the stem. An angled cut will allow more water to enter the stem. Always use a sharp knife to avoid tearing the stem.
Remove all leaves that will be under water when the flowers are placed in the vase. Leaves remaining under water will create bacteria that will shorten the life of the flowers.
Change the water every other day. Re-cut an additional inch from the bottom of the stem each time you change the water.
Place cut flowers where the flowers will be protected from direct sunlight. Avoid placing cut flowers near warm appliances or near heating vents or air conditioners. Move the cut flowers into a cool room during the night.