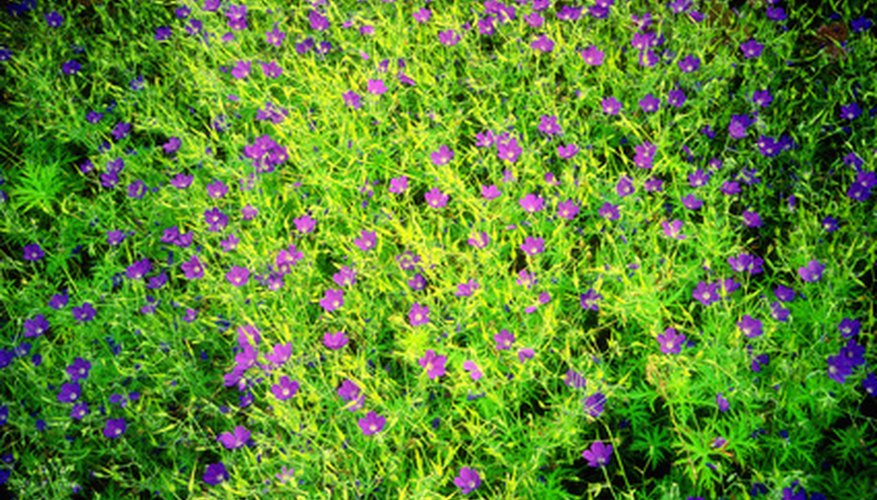 Flowers provide gardens with a splash of color and often a sweet scent. Flowers come in many shapes and sizes, from tiny ground cover flowers to huge, showy blooms. Some flowers, like peonies and hollyhocks, grow as perennials, while others, like marigolds and zinnias, grow as annuals. Perennial flowers bloom for a few weeks, but live in your garden for a number of years, according to Purdue University. Annual flowers bloom for a whole season, but only live for one year.
Remove any large rocks or weeds from your garden bed. Enrich your soil with 3 to 4 inches of compost worked into a depth of 6 inches. Choose a place in your garden for the flowers you want to plant. Make sure the area meets the growing requirements of the particular flowers you are planting. If they need to grow in full sun, make sure the garden area gets at least six hours of sunlight a day.
Dig a hole for the flowers as deep as the root ball or bulb and twice as wide.
Place the flower in the hole and fill the hole with soil. Pat the soil down firmly.
Water the flowers with 1 tbsp. of water-soluble starter fertilizer diluted into 1 gallon of water until the soil is moist but not soaking wet.
Things You Will Need
Spade

Compost

Starter fertilizer
Tips
Plant annuals in the spring after the last frost have passed.

Plant hardy perennials in the spring after the ground thaws, and tender perennials after the last frost date.

If you are planting seeds, dig a hole no deeper the 1 to 2 inches for large seeds. Sprinkle smalls seeds onto the surface of well-worked soil and sprinkle a ¼-inch layer of soil over them. Plant bulbs three times as deep as they are tall with the pointed end sticking up.