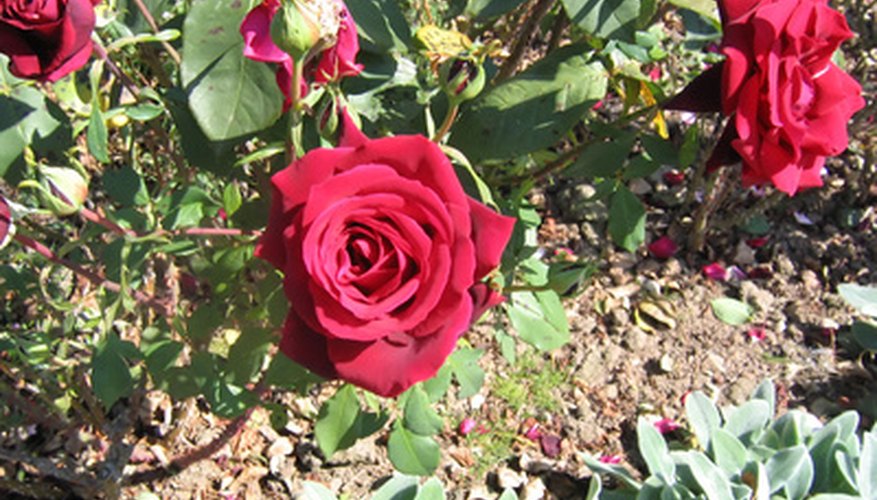 With their attractive blossoms and enticing aroma, rose bushes hold a favorite spot in the hearts of many gardeners and horticulturists. Rose bushes vary in their numerous characteristics, including blossom color and the mature size of the shrubs. These flowering bushes range in size from small, 6-inch miniature rose bushes to large, 6-feet grandiflora rose bushes. Plant new rose bushes along property lines or close to patios and porches, where their delightful fragrance and appearance draw attention.
Plant new rose bushes in an area of your landscape that provides protection from wind and receives a majority of daytime sunlight. Don't plant your new roses under large trees that may block the available sunlight and pull the nutrients from the surrounding soil.
Test your garden soil. Add peat, compost and any recommended amendments to your soil prior to planting your roses.
Plant your rose bushes in rich, loamy soil to provide a welcoming, well-drained medium for your new plants. Plant your new rose bushes at a level even with the surrounding soil, avoiding depressions around the plants. Lightly pack the soil after planting to press out any air bubbles around the roots.
Water your new rose bushes deeply after planting. Soak the area around the roots with a slow flow of water from your garden hose. Keep the soil around the roots of your rose bushes slightly moist throughout the growing season. Rose bushes require slightly moist soil to flourish and produce masses of attractive blossoms. Allow the surface over the area of the roots to dry slightly between watering sessions. Applying 2 to 3 inches of water each week will keep your new rose bushes looking their best.
Fertilize your rose bushes two to three times each year, starting the year after planting them in your landscape. Select a fertilizer designed for use with rose bushes. Apply in the spring as soon as the bushes begin forming new leaf buds. Apply a second feeding during the height of the blooming season and a final one after the blossoms begin to fade.