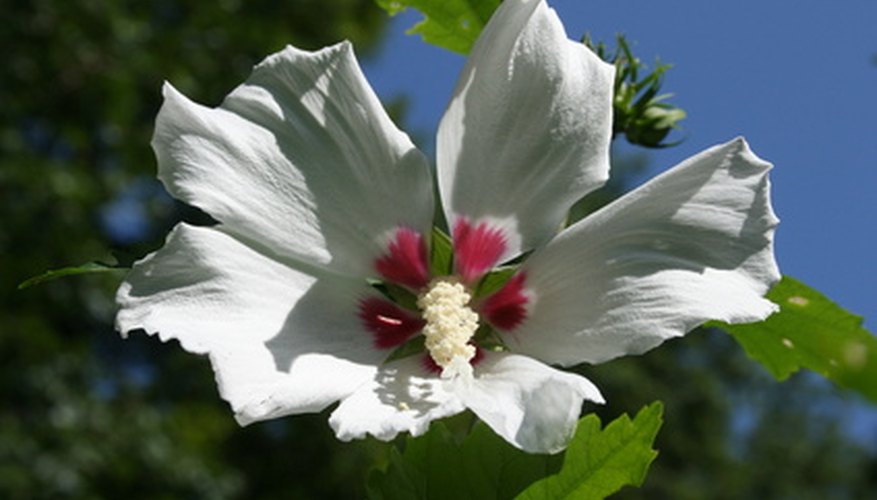 Rose of Sharon, a member of the hibiscus family, is a tall shrub that blooms in a multitude of colors with large, papery flowers. Use it as a screen to cover an unattractive wall or fence, or plant it as a backdrop to a flower garden. While rose of Sharon thrives in USDA Plant Hardiness Zones 4 to 9, it still needs a little winter care to guarantee a healthy plant ready for growth and blooming the following growing season.
Water your plant weekly in the fall when the top 1 inch of soil feels dry to the touch. An established plant may not need weekly watering, but if your area has had a drought over the summer even an older plant may benefit from hand-watering. Stop watering once nightly frosts begin.
Wait until just after the first fall frost for your region before raking away debris from around the base of your rose of Sharon. This debris normally includes the dropped leaves of the plant, seeds and seed pods, and any twigs or limbs that have broken off.
Spread a layer of mulch around the base of the rose of Sharon 2 to 4 inches deep and 1 to 2 feet in diameter, depending on the size of the base of your plant. Use mulch made of bark, straw or thoroughly dried oak leaves.
Prune your plant, if desired, to keep it from growing taller than 8 feet by cutting the entire height of the plant back by half. Use a sharp pair of hand pruners or loppers and cut each limb just after a branching so that new growth will look natural.