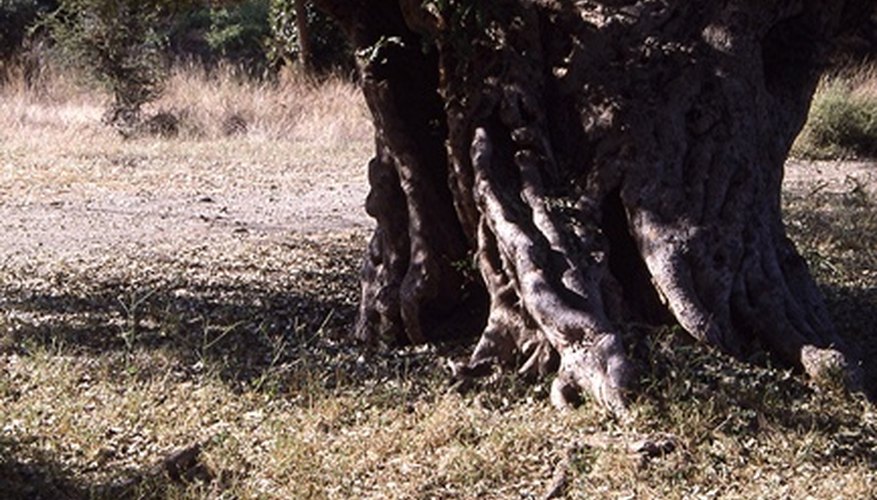 Tropical trees, like the ones found in Thailand, are broad-leafed evergreens. Tropical trees are among the fastest growing trees in the world, however these trees do not live as long as those found in more temperate climates. Evergreens found in Thailand include the banyan tree, the weeping fig and the thingham.
Banyan Tree
The banyan tree is a fig tree. The height of the tree is 100 feet, and the tree is one of the largest in terms of spread, with some trees covering many acres. The branches of the tree grow downward into the soil, rooting themselves over a wide area to support the crown of the tree, according to "Simon & Schusters Guide to Trees," by Paola Lanzara and Mariella Pizzetti. The bark is gray or tan. The leaves are thick, oval and leathery. The figs grow in pairs along the leaf.
Weeping Fig
The weeping fig grows to 65 feet in height. When it is mature, it is wider than it is tall. Like the banyan, the branches grow downward into the soil to form new trunks, according to "Trees" by Colin Ridsdale. The bark is pale gray or white and crisscrossed with branches. The pale-green leaves are an elongated oval shape. The figs fruit throughout the year.
Thingham
The thingham tree is a tall tree that reaches a height of 122 feet. Found near streams, the tree is harvested for its lumber, which is used for carpentry and dammar resin. The leaves are harvested for tannin, according to "The Illustrated Encyclopedia of Trees of the World," by Tony Russell, Catherine Cutler and Martin Walters. The trunk is straight. The bark is dark gray-brown with orange cracks and the heartwood is yellow-brown. The dark green leaves are shaped like an elongated oval. The small gray flowers bloom in the spring. The fruit appears in the early summer.