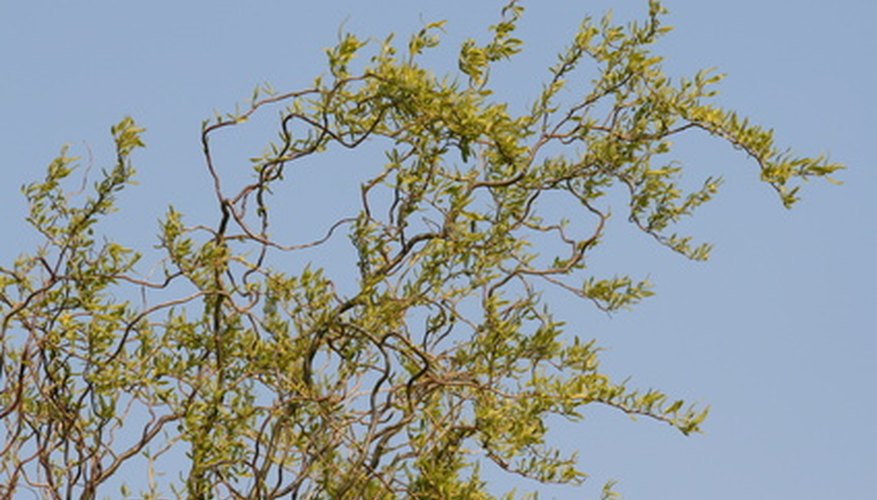 Dried willow branches have long winding curls, making them a popular decorative accessory. There are several ways to decorate with willow branches, from designs for the doorway to centerpieces for a dining table. Natural willow branches add a whimsical touch to your home decor, but you can also paint them to complement seasonal or other home decorations. Look for bundles of dried willow branches at craft and floral supply stores.
Separate the willow branch bundles. Place the individual branches on a protected work surface for painting.
Spray paint one side of the branches in a color that coordinates with your decor. For example, paint the willow branches winter white or silver to coordinate with Christmas decorations or paint them rustic red to accent a country-style home. Apply the spray paint in long, even strokes along the length of each willow branch. Allow the paint to dry. Flip the branches and paint the other side. Let dry.
Reassemble the two bundles of branches together. Lay the bundles on a work surface facing opposite directions so that the ends overlap. The curly, decorative part of the willow branches should extend to the sides.
Cut a 2-foot long section of floral wire. Bend the wire in half. Slide one section of wire beneath the center section of the willow branches to the fold. One section of wire should be on top of the branches. Twist the wires together twice where they meet on the opposite side of the fold. Wrap the two sections of wire securely around the willow branches so that the two bundles are joined at the center.
Cut a length of 2-inch wide ribbon to cover the wire around the center of the bundles. Tie the ribbon around the bundles.
Glue embellishments to the center of the willow branch bundles with hot glue. Pine cones and berries add natural decorative elements; beads and glass cabochons add sparkling color.
Place the completed willow branch design in the center of a sofa table or a dining table.
Things You Will Need
2 bundles of dried willow branches

Spray paint

Floral wire

Wire cutters

2-inch wide ribbon

Scissors

Embellishments (pine cones, berries, beads, etc.)

Glue gun

Glue sticks
Tip
Add dimension to the design by surrounding the center of the willow branch bundle with two to four tall candleholders containing tall pillar candles. The candles add height and call attention to the center design of the branches.
References
Resources