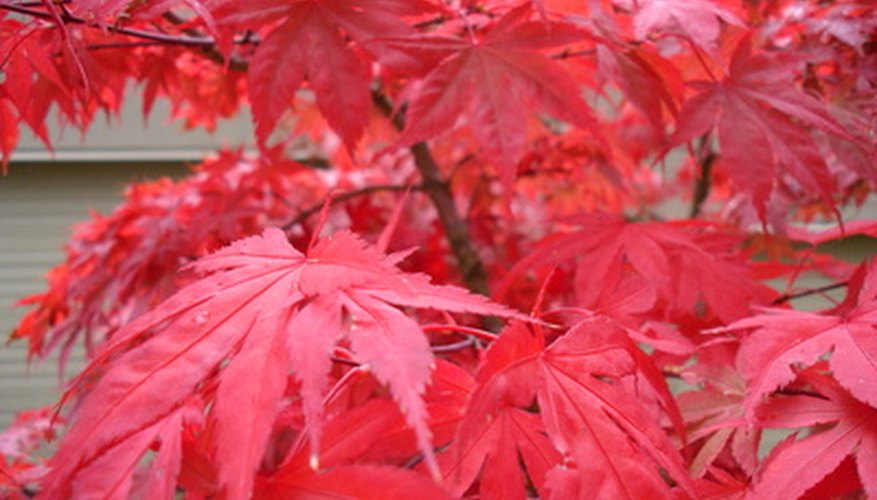 A Japanese maple is most popular for its reddish leaves and small stature, which at mature height reaches only about 20 feet high and wide. Under the Japanese maple is shade and if you want to plant some plants under it, you're in luck. Maple trees in general, move groundwater with their deeper roots up to their upper roots, where some of the water is secreted into the soil for other plants to use. Even though you may have to maneuver around the shallow roots, the tree and plants should have plenty of water, especially if you provide supplemental waterings during the growing season.
Select shade tolerant plants such as ferns and hostas. You can also choose shade tolerant acid loving plants, such as azaleas or coral bells, since Japanese maples can tolerate acidic soil. Alternatively, select a shade tolerant ground cover, such as bugleweed or Japanese pachysandra, which will fill in the entire space under your Japanese maple over time.
Choose where to plant the shade tolerant plants. Plant the plants that tolerate full shade closer to the trunk of the tree and the ones that prefer some sun near the outer edges of the tree. For groundcovers, space them under the entire canopy according to the spacing requirements that came with your plants (usually about 1 to 3 feet apart).
Work the soil under the tree, being careful not to damage the roots. Add in 1 to 2 inches of organic matter, such as compost (and lime if you are planting acidic plants). Normally, you should till garden soil to a depth of 8 to 12 inches, but under a maple tree, especially near the trunk, you may only be about to go about 3 or 4 inches deep.
Plant your plants carefully. Use a trowel to dig holes for your plants. If you come across a large root, move your plant a few inches to avoid it.
Mulch around your plants (or ground covers). Mulch will help retain water, giving both your plants and Japanese maple the water that they need. Use about 2 inches of organic mulch, such as bark or pine needles.
Water your plants with about an inch of water during the summer and if it hasn't rained for a week or more. During the spring and fall, rainfall (and the ground water secreted by the upper roots), typically provides enough water for your tree and plants, however, during long periods of time without rain (such as three or more weeks), water them with about an inch of water once of week until the drought is over. If your Japanese maple is less than three years old, you should water your plants and tree 1 inch of water a week from spring until fall.
Things You Will Need
Garden rake or hoe

Organic matter

Trowel

Mulch

Water