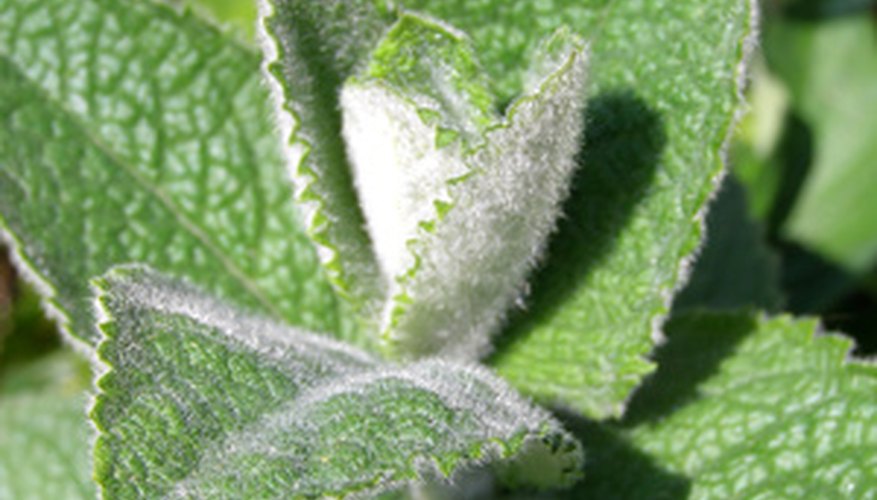 The only challenging aspect of growing mint is managing these invasive plants. During the first year, all mint varieties grow quickly--particularly when placed directly in the soil. They produce lovely herb plants that render a bounty of aromatic leaves and stems for your kitchen, and all is well. By the second spring, underground runners develop and sprigs sprout near the original planting site. Still, this usually isn't much of an issue. Year three suddenly unveils the heretofore lurking but now raging lunatic plant taking over your garden and yard. The moral of the story is to plant mints only if you can contain them.
Plant your mint in a 16-inch pot of all-purpose potting soil to grow as a container specimen. Situate it in partial or full sun. Give the mint enough water to keep the surface of the soil evenly moist during the growing season.
Dig a hole and bury the pot with about 1 to 2 inches of the lip above ground if you absolutely must plant mint in your yard or garden.
Pick the mint plant as often as you like throughout the season once it's about 4 inches tall. Cut stems all the way to the ground to harvest. You can safely remove 1/3 of the plant at any given time. Keep the rest of it trimmed back to about 4 to 6 inches to encourage fullness.
Pull the mint completely out of the pot when it has spread and filled the container, and roots and runners begin growing over the rim.
Use a garden spade to split the mint plant and its root ball into quarters. Re-pot one of the quarters. Close the rest of the plant up tightly in plastic bags and discard. Don't toss the excess onto your compost heap, where it will root and quickly grow out of control.
Cut the mint plant all the way back to the ground in the fall and cover with several inches of mulch to protect it from frost.
Pull wayward or otherwise unwanted mint sprigs from the ground immediately upon sight. Discard in tightly closed plastic bags.