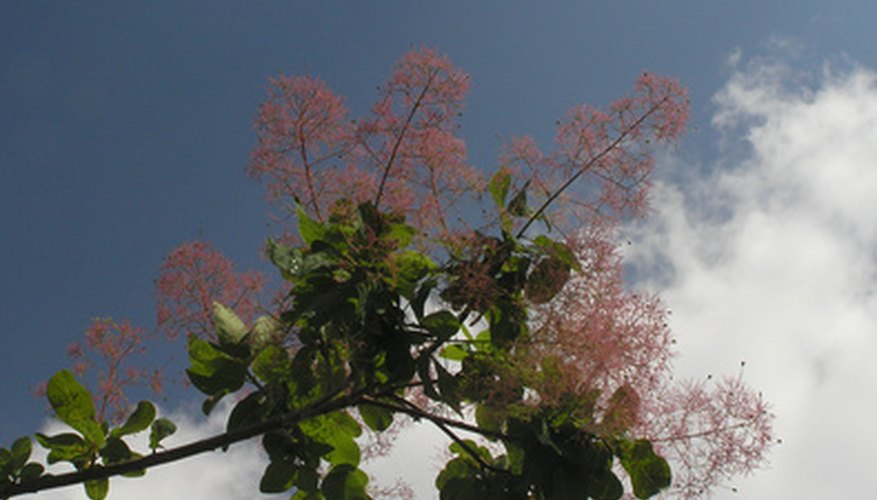 Few plants add splendor to the landscape like the smoke tree. This tree, often referred to as a smoke bush, adds color to the yard. With its purple foliage and dainty blossoms, the smoke tree creates an attractive focal point or border tree. Growing 15 feet in height and 15 feet in width, the smoke tree often resembles a large, round bush, especially after heavy pruning.
Select a sunny location in your yard to plant your smoke tree. Sufficient light creates the deepest color in this tree. Plant in an area of partial shade if you desire a tree with lighter-colored leaves. Avoid placing the smoke tree in a low area that experiences frequent flooding. Place this tree in a protected area to avoid damage during periods of strong wind.
Prepare your planting site. Add compost to average and dry soils to increase the level of nutrients and encourage good drainage. Smoke trees require fertile soil that drains well. Use a shovel to incorporate the compost into the spot you have chosen for your smoke tree. Make a hole deep enough to allow the surface of the root ball to sit level with the surface of the surrounding soil. Make the hole two to three times wider than the root ball.
Lift your smoke tree out of its planter by grasping the base of the sides of the root ball and pulling gently, easing it from the pot. If necessary, loosen the soil in the plastic pot by pressing the outside of the pot firmly between your hands. Place your new tree in the prepared hole and backfill with your soil and compost mix. Tamp down the surface soil with your feet to remove large air pockets.
Water your smoke tree immediately after planting. These trees require moist soil to survive. Keep the soil slightly moist by watering frequently during times of drought and intense heat.