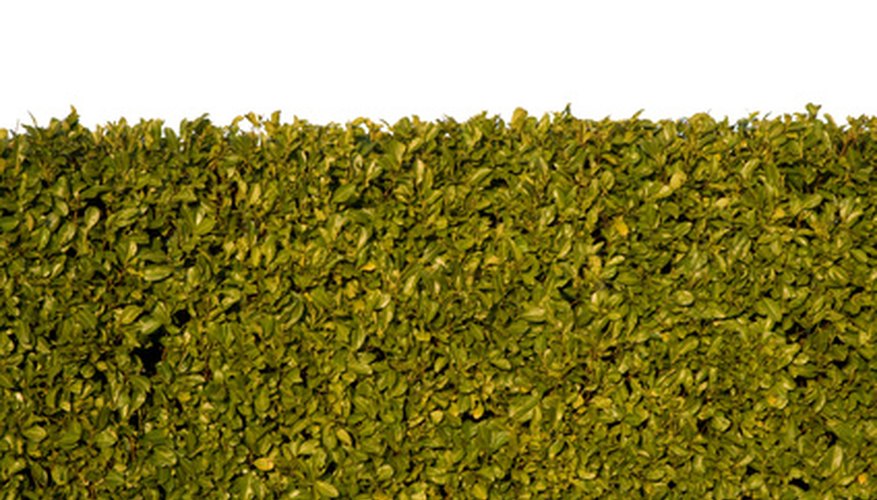 Shade tolerant shrubs are perfect for spots under trees or spaces blocked by buildings. In addition to loving the shade, these shrubs must also be able to withstand Midwest weather conditions. The average minimum temperatures in the Midwest range from -10 degrees Fahrenheit to -30 degrees. Shrubs that fill the bill include privet, summersweet and the yew.
Privet
Privet is a fast-growing evergreen. There are several different species, including Japanese, wax-leaved, Amur and border privet. Many privets can be planted and then pruned into a hedge, or the privet can be left to grow individually. Privet shrubs bloom with small white flowers in the summer, which will brighten up a shady spot, according to "The Mid-West Gardener's Book of Lists" by Susan McClure. After the flowers bloom, blue-black berries sprout and last several months.
Summersweet
Summersweet is native shrub with glossy leaves that blooms with white flowers in the summer. These flowers attract butterflies, birds and bees. In the fall, the leaves turn yellow, according to "Trees and Shrubs For Dummies" by Ann Whitman and the editors of the National Gardening Association. If the shrub does not receive any sun, leaves will not grow on the lower branches. Also called the soap bush, in colonial times the flowers were used as a soap substitute.
Yew
There are many species and cultivars of yew. A fast-growing shrub, the yew has dark green foliage. A shade-lover, the yew is used for hedges and can withstand aggressive pruning. Some species, including the Irish, Japanese and plum yews, sprout berries, according to the "Illustrated Guide to Gardening," by Reader's Digest. The Japanese yew, in particular, can withstand urban pollution and moist soil. All yews should be protected from wind.