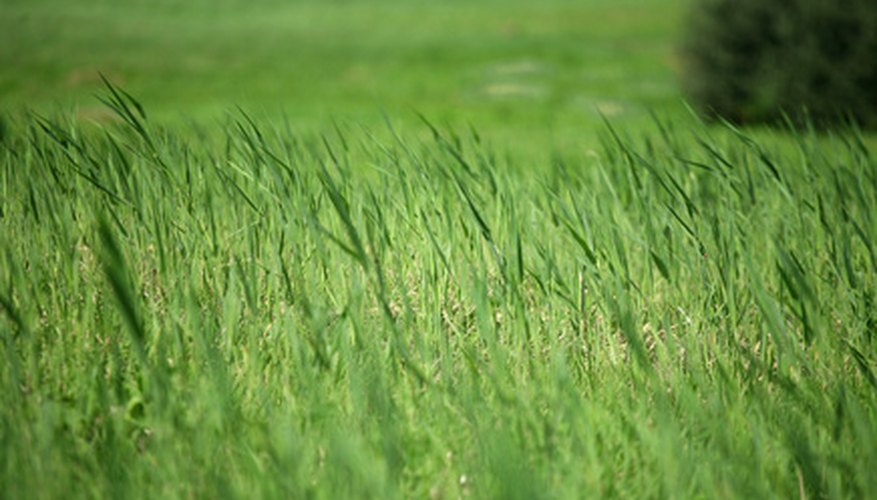 If your lawn is in need of a makeover, reseeding could be the right choice for you. Although it takes a lot of care and maintenance to get grass seed to germinate and take root, it's much less expensive than sod, according to All About Lawns. You'll also have a much greater selection if you choose seed over sod. Timing is key when planting grass seed. For warm-season grasses, seed between May and July, according to the North Carolina State University Cooperative Extension. For cool-season varieties, seed in late August or September.
Prepare the soil for grass seed by applying a high-phosphorus fertilizer such as a 1-2-1. Carefully follow the label directions with regard to how much fertilizer to apply. Apply fertilizer to the soil surface only; do not work it into the ground.
Spread the seed on the prepared planting area. You can spread the seed by hand or use a hand caster or seed spreader to ensure an even distribution of the grass seed. Consult the label on the grass seed for appropriate seed quantity.
Rake the soil lightly so the grass seed is pushed into the uppermost layer of soil.
Roll over the area with a lawn roller to ensure the seed is pushed down and makes good contact with the soil.
Water the area immediately after spreading the seed. Keep the top 1/2 inch of soil moist until the seed germinates and sprouts, according to the North Carolina Department of Agriculture. This may require daily or twice daily waterings, depending on heat and humidity levels.
Place stakes around the newly planted seed, and tie string or tape to the stakes to keep people out of the area.