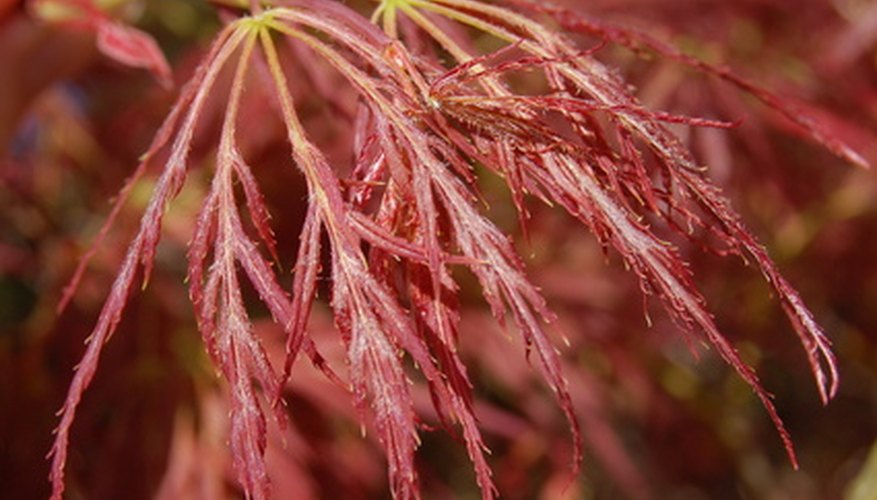 Caring for dwarf Japanese maples is much the same as caring for a full-sized Japanese maple. Dwarfs are trees that are genetically predisposed to grow to a much smaller size, often up to 6 or 8 feet tall, or grafted to a dwarf rootstock that result in similar sizes. Any Japanese maple can, however, be grown as a dwarf in a pot. By trimming back 1/3 to 1/2 of the roots every two years, you will reduce the trees growth, resulting in a much smaller tree.
Plant or keep the Dwarf Japanese maple in partial sun as some varieties of the tree are susceptible to leaf burn in full sun.
Give the Japanese maple 1 to 2 inches of water once or twice a week, depending on how much natural rain falls. Do not allow water to collect on the soil around the roots. Water the Japanese maple with soaker hose to allow the bulk of the water to penetrate the soil instead of having part of the water evaporate from the leaves and trunk.
Fertilize the Dwarf Japanese maple sparingly. Apply a light application of a balanced fertilizer once a year. Follow the label instructions for dosage details.
Add 1 or 2 inches of mulch around each recently-planted tree to help retain moisture in the soil around the roots. Apply an additional 1 or 2 inches of mulch before winter to help insulate the roots in very cold climates.
Prune the Japanese maple in the winter. Clip any branches that are crossing or growing in an undesirable direction just above the point where leaf buds will grow in the spring. Avoid spring pruning because of the tendency of maples to weep when pruned while the sap is rising.
Trim the branches to keep them from touching the ground if the variety of your Dwarf Japanese maple is a weeping maple.