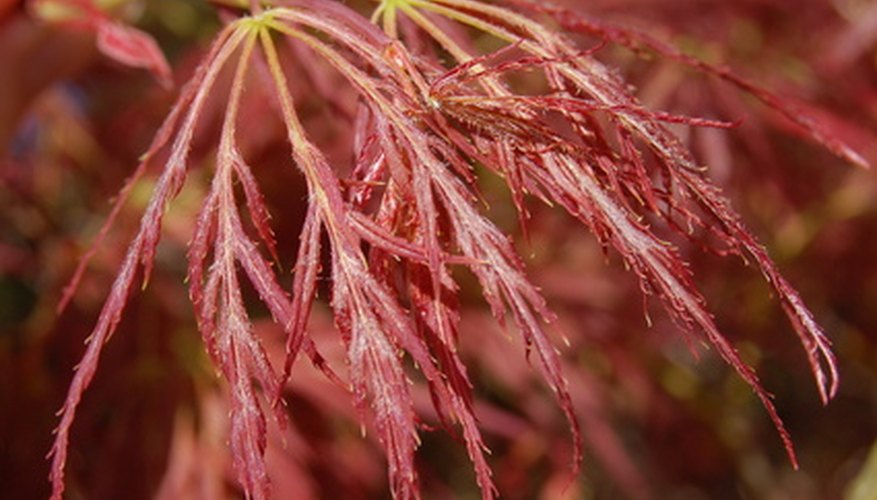 Japanese weeping maple trees are frequently red-leafed trees with fine, lace-like leaves. Weeping maples often assume a round, globe-like form that sometimes look like a red ball set partway into the soil. Japanese weeping maples have a long history throughout Asia and can, when grown under proper conditions, grow very well in many parts of North America.
Origins
Although Japanese weeping maples are closely associated with Japan, many species that are called Japanese maples in the west can also be found growing in the wild in China and Korea.
Varieties
Many varieties of Japanese maple grow in weeping or cascading forms. Crimson queen is a variety of red dissectum that has fine leaves that remain red throughout the growing season. Ever red, or Dissectum nigrum, is a smaller weeping tree that has fine leaves that start out silver but turn red as they mature.
Height & Spread
Dwarf Japanese weeping maples can be as small as 4 to 6 feet tall and resemble small, round bushes. However, some trees can reach 12 to 16 feet tall. Most Japanese weeping maples have about the same spread as their height, but some may have nominally more or less width than height.
Light Requirements
Many Japanese weeping maples, especially smaller varieties, are well suited for partial shade, partial sun, and full shade. In some cases, Japanese weeping maple trees have issues with leaf burn. Leaf burn is sometimes a combination of too much sun and not enough water.
Soil
Japanese weeping maples are not particular about soils, as long as the soil drains well. Japanese weeping maples can grow well in soils that are predominantly clay, predominantly sand or predominantly loam. They can tolerate acidic soils.
Growth Zones in North America
Japanese weeping maples can grow in many climate zones ranging from United States Department of Agriculture (USDA) hardiness zone 5b through 9. If you are planting a new tree, check to be sure that the tree will grow well in your local climate zone.
Bonsai
Bonsai is the art of growing a miniature tree in a small pot. Although associated with Japan, bonsai originated in China and was transmitted to Japan with Buddhism. Japanese weeping maples can be ideally suited to cultivation as a bonsai. However, when growing them as a bonsai, you will need to find a way to give them a dormant period without risking freezing their roots outside in the winter.