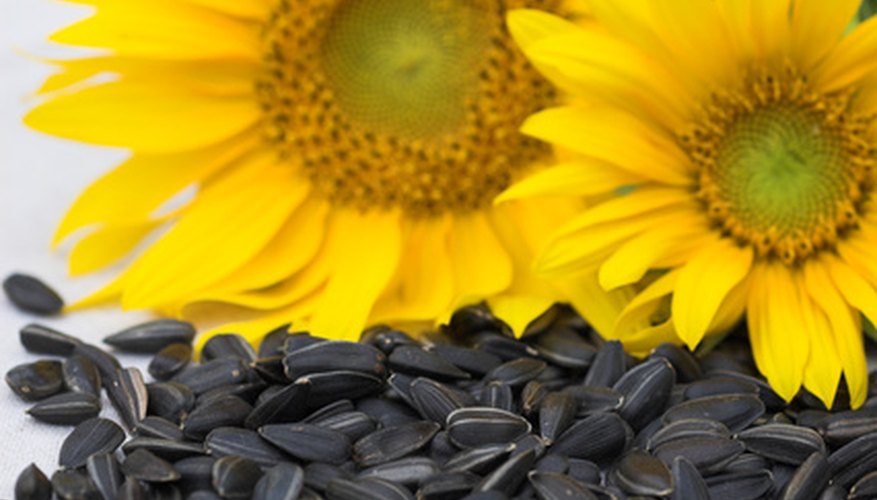 Whether you grow your own sunflowers or buy sunflower seeds at the market, chances are you know how useful the huge flower's tiny, but mighty seeds are. The two main types of sunflower seeds are the black oilseed variety—most often used for bird seed, livestock meal and sunflower oil—and confectionery, or striped sunflower seeds, commonly sold for snacking and cooking.
Healthy Snack
Sunflower seeds' most important use may be their contribution of important vitamins and minerals to the daily diet. According to the National Sunflower Association, sunflower seeds contain two to three times more folate and Vitamin E as sesame seeds, almonds, pecans, hazelnuts or walnuts. They also contain at least eight times more selenium as other seeds and nuts, and comparable amounts of iron and zinc. Have at least 1 ounce per serving of sunflower seeds to reap their healthful benefits. That serving contains only 160 calories, on average.
Salad and Casserole Topping
Replace croutons with sunflower seeds as a salad topper, and use sunflower seeds in place of potato chips or bread crumbs to cover a casserole. The substitution adds crunch and protein while removing the empty carbohydrates, trans fats and salty preservatives found in many commercially available croutons, bread crumbs and other common toppings.
Inexpensive Nut Alternative
Use sunflower seeds in place of nuts in baking; comparable in health benefits and texture, sunflowers pack a crunch punch at a lower cost. " I figure you'd have to be nuts to pay several dollars a pound for something that only adds a bit of crunch to a cookie," notes budget expert Amy Dacyczyn, author of "The Tightwad Gazette" books. "At best, they are a healthful extravagance. Instead, I buy bulk, shelled sunflower seeds from the health food store." As a rule, shelled but raw sunflower seeds cost a fraction of commonly used nuts for cookies, breads and fruit-nut bars such as pecan and walnut.
Beauty Aid
The same vitamins and minerals that sunflower seeds contribute to the body when eaten also nourish the skin when applied topically, notes natural beauty expert Jeanne Rose. She recommends making a facial mask or body scrub by grinding the seeds in a coffee bean grinder or food processor before mixing them with milk for dry skin or yogurt for oily skin. Apply the mixture to your face and/or body, allow to dry, then rinse off in the sink or shower. Use just enough milk or yogurt to moisten the mixture.
Bird Food
Sunflower seeds, especially the black oil seed type, represent the best choice to attract the widest range of birds, according to Cornell University. Black oil sunflower seeds contain more food than shell and are easier for the birds to eat than the familiar striped kind of sunflower seed. Some birds, such as the cardinal, appear to prefer oil and striped sunflower seeds equally, according to the National Sunflower Association. Birds noted for their fondness of sunflower seeds include chickadees, sparrows, blackbirds, finches, nuthatches, titmice, doves, pigeons and grosbeaks, cardinals and woodpeckers. Either use sunflower seeds alone, or combine with other seeds, nuts, suet, fruit and gritty materials such as eggshells and oyster shells. Consult your local nature center or a web site such as Cornell's Project Bird Watch (birds.cornell.edu) to determine exactly the right combination of foods to use for the birds you wish to attract.