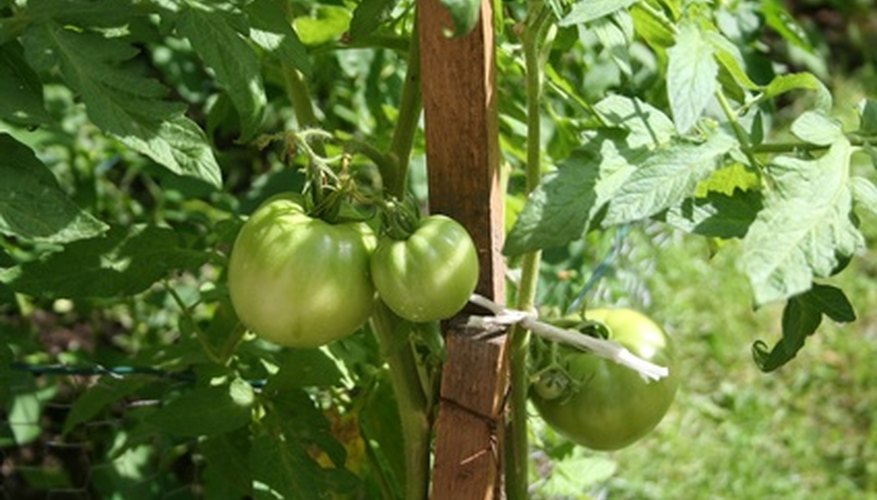 Tomatoes are popular vegetables for home gardens. With proper care, tomato plants produce an abundant amount of fruit. Tomato plants become heavy when their branches are filled, and floppy plants can ruin a tomato crop. Flopping places large tomato plants on the ground, where invading slugs and pests can attack the leaves and fruit. Staking is one way to keep large tomato plants upright and out of harm's way. It also prevents plant diseases by improving air circulation. There is less fruit rotting and harvesting takes less effort.
Pound the 2-inch by 2-inch by 6-foot-long wooden stake 12 inches into the soil with a hammer. Position the stake 4 to 6 inches from the newly transplanted tomato seedling.
Attach soft strips of cloth or stretchy nursery tape to the stake. Space the ties out to every 10 inches on the stake.
Prune away any suckers with a sharp pair of shears to encourage the growth and development of one or two main stems.
Tie the main stems to the stake once the tomato plant reaches 18 inches tall. Leave 1/2 inch of slack in the tie to leave room for future growth of the tomato stem. As the tomato plant grows, tie the stems to the stake.
Pinch off any growing branches appearing near the bottom of the tomato plant other than the two main stems. Keep the tomato plant pruned backed each week.