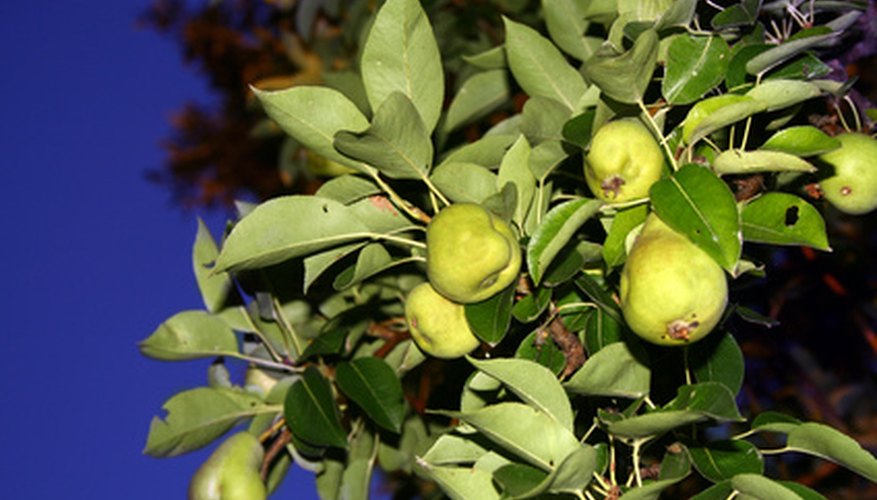 Most fruit trees do not like having their feet wet and won't grow well in a very wet location such as a stream bank or marshy area. However, some varieties of some fruits can be persuaded to grow in wetter locations, although you may have to landscape the area to help them out. It will be too difficult to grow fruits with stones, like cherries, plums, peaches or apricots in wet ground, so stick with the more water-loving apple or pear trees. Even so, you will need to take measures to prevent rot, mildew and other problems that arise from too much water.
Choose a water-loving variety of seedling. Pears generally will stand for more water around their feet than apples will, but if your planting spot isn't swimming, you may be able to use apple seedlings as well.
Get as much sun to the wet location as possible. If nearby tree branches are shading the area, cut them back. Increasing the sunlight will help dry out the soil more quickly and reduce the chance of the fruit seedlings succumbing to rot or mildew from too much water.
Dig up a wide, deep area where you intend to plant. Increasing the trees' drainage field and aerating the soil will help counteract the wet ground. Turn the soil over at least 1 foot down and at least as wide as the height of the seedling. Dig a hole deep enough for the root ball but no deeper.
Plant the seedling so that the graft union between the rootstock and the fruit tree is at the soil line, not buried and not overly exposed. The whole root ball should be in the hole. Firm up the soil around it so that the roots are covered.
Keep an eye on how much water the tree is getting. If you must add additional water, water once a week or less often. Infrequent and thorough watering will help strengthen the depth of roots rather than encourage surface rooting as light, frequent watering will. Inspect trees weekly to be alert for signs of pests or diseases.
Things You Will Need
Apple or pear seedlings

Pruning saw

Spade
Tip
Other water-loving fruit and nut plants include hazelnuts, mountain ash hybrids, blueberries, black currants, lingonberries and cranberries.
Warning
Although it may seem like a good idea to build up the soil, do not mulch fruit trees in a wet location. This will hold in even more moisture and contribute to root and trunk rot.