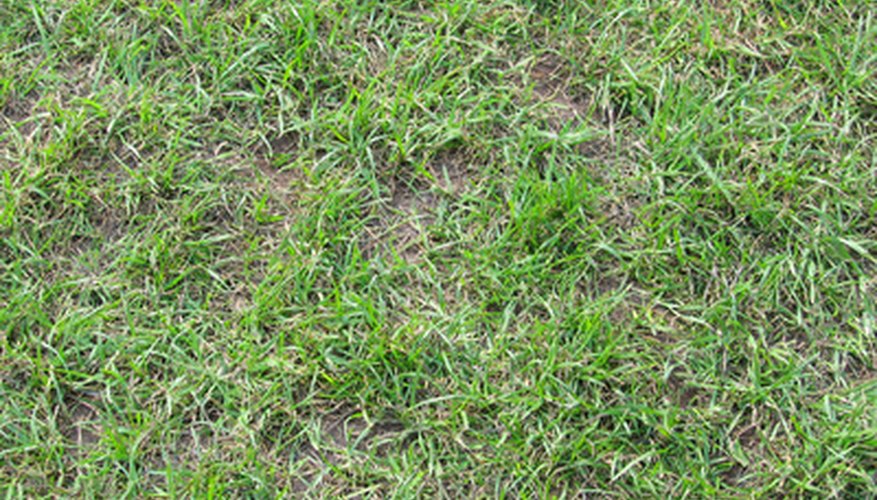 Overseeding is a process of adding a winter grass seed to a patchy or unhealthy dormant warm grass lawn, to ensure grass coverage in the spring. Rye grass is a common grass seed to use in the process. Rye provides a green coverage during the winter months due to its versatility in both sunny and shady conditions, says the Clemson University Extension, but should be used only for winter coverage, as it is highly susceptible to disease in the summer.
Aerate the lawn using a core aeration device, running the aerator in both directions across the lawn to increase coverage, recommends the Clemson University Extension. Aeration pulls plugs of soil from the lawn which relieves compaction and reduces thatch coverage when the plugs of soil break up, covering the thatch and introducing microorganisms that decay the thatch. Aerate 30 days before overseeding the lawn.
Mow the lawn to as short a height as possible without damaging the grass, suggests Walterreeves.com. Mowing the grass short increases seed coverage.
Apply rye grass to the lawn using a broadcast seed spreader. Clemson Extension recommends a rate of 10 pounds per 1,000 square feet for annual rye grass, and 5 to 15 pounds per 1,000 square feet for perennial rye grass.
Rake the ground to spread the seed. Apply fertilizer to the lawn. Walter Reeves suggests using 10 pounds of 10-10-10 fertilizer.
Water the lawn two to three times daily until the grass germinates, continuing until the grass is established. To prevent wilt, water the grass only as necessary once it requires mowing.