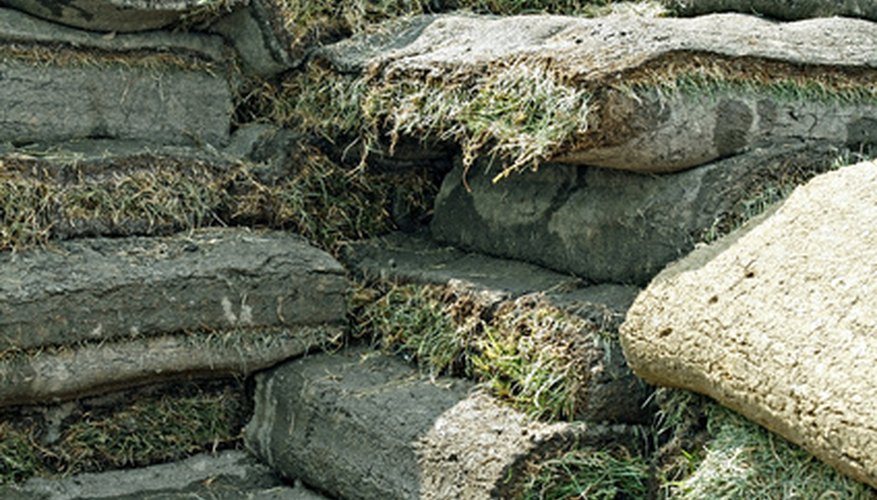 Sod is a prepared piece of grass and soil that is laid down onto a yard like carpet, making an instant lawn. The advantages of sod are that it establishes rapidly, will work in highly erosive areas of the lawn and is possible to establish any time during the year. Sod can be expensive, and there are fewer varieties of grass available in sod form than in seed form, but if an instant grass cover is needed, sod is king. Laying sod yourself requires time and physical labor, but is possible with the right preparation.
Kill existing grass by applying a non-selective herbicide to the grass, suggests the Colorado University Extension. Water the grass before application of dry herbicide, and follow the herbicide instructions for application.
Mow dead grass--the Colorado State University Extension recommends mowing to a height of 1/2 inch--and rake away the dead grass. Use a core aerator to remove plugs of dirt from the lawn, breaking down the dead grass and existing thatch. Run the aerator in two directions for maximum coverage.
Water the lawn to a depth of 6 inches, recommends the University of Vermont Extension. This cools the soil, preventing root damage to the sod, and makes the earth easier for the sod roots to move through.
Lay the sod on the lawn. The University of Minnesota Extension recommends staggering the sod like brick work until the area of renovation is completely covered. Fill any cracks between the sod with soil to prevent the edges from drying out. Smooth out the sod with a lawn roller.
.