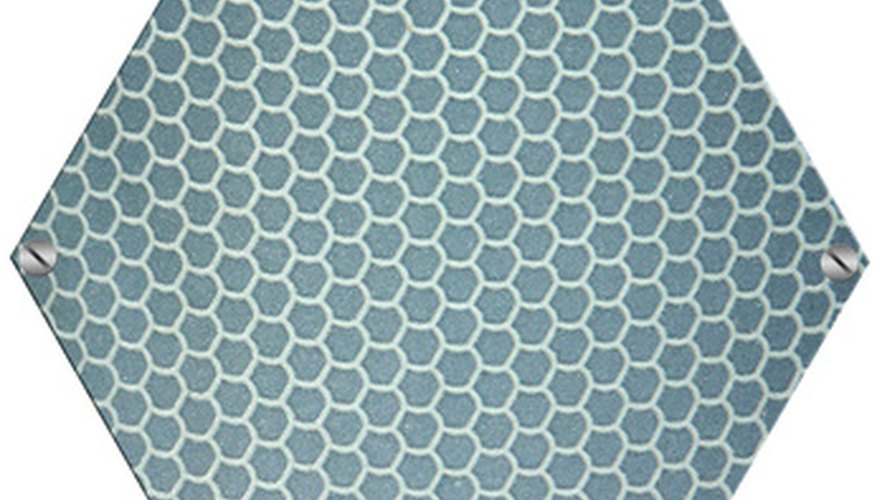 Enhance the appeal of a spot with a hexagon flower bed instead of a traditional rectangular one. A hexagon is a shape with six equal sides. Dress up your artistic flower bed with brightly colored flowers, plants or shrubs. Building such a flower bed in your garden is a simple task that does not require the services of a hired professional. With a few right tools in hand, construct a hexagon flower bed that stands out and draws attention. Make sure the spot meets the sunlight requirements of the plants you wish to grow.
Sketch your flower bed on paper to give you an idea of how it looks and the appropriate placement of plants. Keep the surrounding area in mind to determine length of each side. Remember that all sides of a hexagon are equal in length. Depending on the space available, keep each side up to 3 feet long so you can easily access the plants of flowers growing in the middle.
Clear out the selected area where you want to build the hexagon planter. Make sure it receives at least 4 hours of sunlight a day, and is near a water source for easy irrigation. Wear gloves and remove any weeds, stones, rocks or plant debris. Collect these in a tarp or wheelbarrow and dispose.
Measure an area in your front or backyard in the shape of a hexagon. Use a measuring tape and mark the points with spray paint or powdered chalk. Join the points by spreading powdered chalk in straight lines to form a hexagon.
Remove the grass or sod that grows within the edges of your demarcated hexagon. Use a square-end shovel to pull out the grass along with the roots, ideally up to 3 inches deep. Collect the grass, weeds and soil in a wheelbarrow and dispose appropriately.
Add a 1 ½ to 2-inch layer of compost into the flower bed and rake it in so the soil amendment mixes with the existing soil and goes deep down. Water the soil gently to ensure it is evenly moist.
Edge your hexagon flower bed so it stands out and enhances the appeal of a spot. Depending on personal taste, use wood, plastic, metal, tile, landscape blocks or any weather-resistant material. Dig a 4-inch deep trench as wide as the edging material around the outer edges of your hexagon. Level the base and lower the edging material into the trench, ensuring ½-inch is visible from the top. Backfill soil around the edging to ensure it is securely in place.