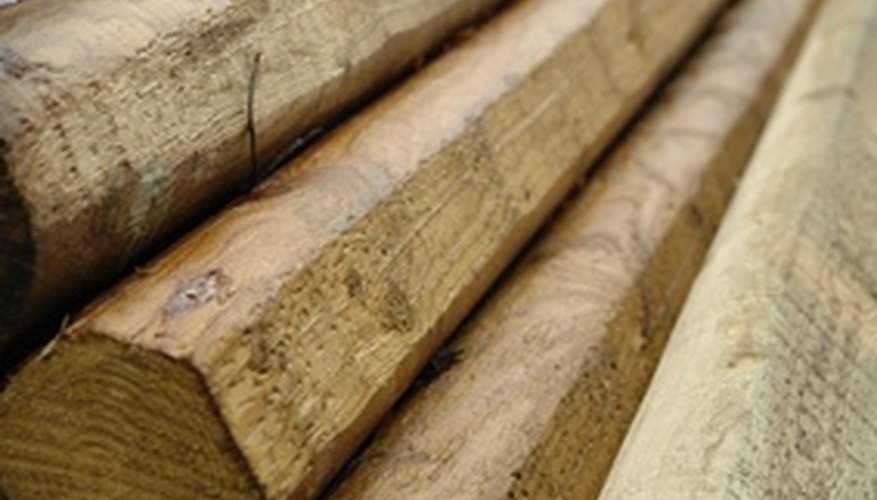 A simple compost bin assembled with landscape timbers is quickly taken apart and reassembled each time you want to turn your compost pile, eliminating the need for an additional turning bin or unit. The spaces between the timbers promote air penetration throughout the pile, providing the oxygen needed for the composting process. Treated wood for a compost bin will last longer, but if you are concerned about chemicals coming in contact with the food you grow, then you may opt for a bin made with untreated wood.
Set two landscape timbers on the ground so they are parallel with each other, about 7 feet apart, in the location where you want your compost bin. For best results select a location with good drainage that is at least partially shaded.
Place two timbers cross-wise on top of the ones you have placed on the ground to form a square with a few inches of wood sticking out each end. (This second set of timbers will be one timber's height above the ground.)
Put two more timbers on the square, parallel with the first two, which are on the ground. Continue alternating sets of two timbers on top the existing ones to create a log-cabin-style bin with ample ventilation.
Fill the bin with alternating layers of 6 inches of dry material (such as leaves or straw) and 2 inches of wet material (such as fruit and vegetable scraps, garden trimmings or manure). Poke holes into the pile with a broom handle to aerate the pile.
Remove the timbers and restack them as described above in a nearby location approximately every four to six weeks, when it is time to turn the compost. Then just pitch the compost into the new enclosure, mixing and aerating as you go.