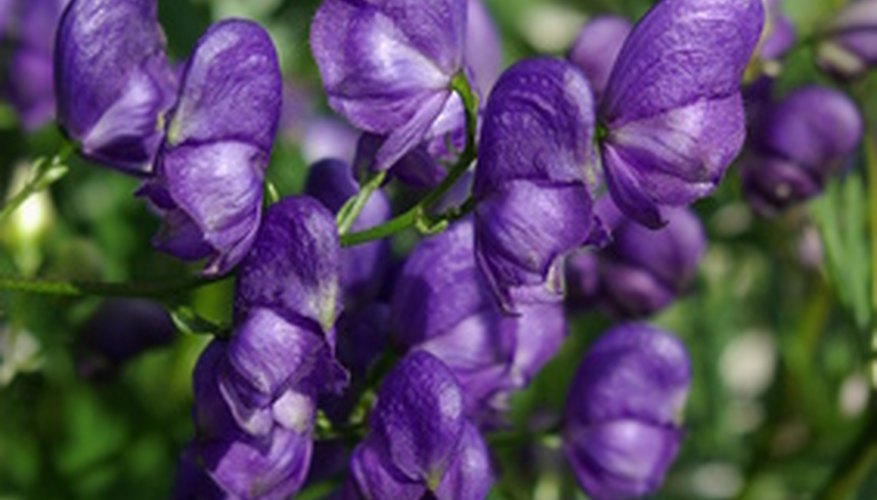 Purple flowers add a rich color to the garden and complement existing flowers with their exotic shades. For a classic summer garden display, June-blooming purple flower varieties help to fill in beds with color and vibrancy. In varying shades of purple from pale lilac to deep violet, purple flowers accent green plants or when planted alone, creates a row of lovely blooms. Easy to grow and maintain, purple flowers are a summer staple to the garden.
Purple Coneflower
Purple coneflower (Echinacea purpurea 'Bright Star') is a perennial flower with a moderate growth rate and upright, clumping habit. Growing 1 to 3 feet tall and wide, purple coneflowers emerge in summer to last into fall, making for a long-lasting summer flower variety. Lighting up the summer garden with color, purple coneflowers are ideal planted along a flowerbed border or bed. The 5-inch wide daisy-like petals surround the copper to orange cones. A butterfly and bumblebee attractant, purple coneflowers bring in these winged beauties to the garden. Purple coneflowers are drought- and heat-tolerant—ideal in arid climates where moisture is limited. Purple coneflowers require full sun to part shade and deep, well-drained soils. To encourage a long flowering season, deadhead or remove the spent blooms as soon as they are visible. Plant purple coneflowers in U.S. Department of Agriculture (USDA) hardiness zones 3 to 9.
Sage
Sage (Salvia nemorosa 'Caradonna') is a perennial flower with a moderate growth rate that emerges in summer to light up the garden with color. Growing 1 to 3 feet tall and wide, sage has bright purple blooms that grow along a black to deep purple stem. Drought-tolerant, sage has an upright, clumping growth habit with 2-foot spikes. The leaves on sage are bright green, and have a wrinkled and soft texture that form a 1-foot mound around the flowers. Ideal tucked inside containers, sage creates a showy display. Sage requires full sun only and moist, well-drained soils to thrive. Plant sage in USDA zones 5 to 9.
Delphinium
Delphinium (Delphinium cultivars), a perennial flower with tall violet blooms, has a moderate growth rate and clumping habit. Growing 36 to 60 inches tall, delphinium flowers bloom on upright stems. Delphinium flowers are deer-tolerant and bring in hummingbirds to the garden to drink from their bright flowers. To promote flowering, deadhead delphinium through the summer. Planted along the back of a perennial bed or garden wall, delphinium creates a striking summer garden design. They require full sun and well-drained soil that is alkaline in nature. Plant delphiniums in USDA zones 2 to 7.