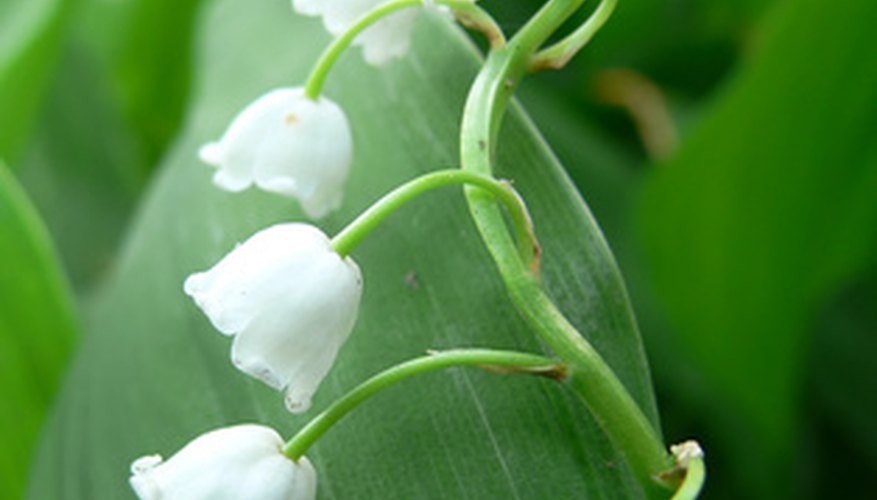 Cheerful, established lily of the valley plants form attractive, care-free groundcover and spring blooming interest to the partially sunny or completely shaded garden. These versatile little beauties will also perform well for you in full sun, provided that the ground is kept moist. Several years after planting lily of the valley, you may notice a marked reduction in the number of blooms. This simply means that the plants have outgrown their present conditions and are overcrowded, so they need to be separated, or divided.
Dig up the clump of lily of the valley once foliage has yellowed and faded, in September or October, before the first predicted frost for your area. Use a sharp gardening spade to cut a circle in the ground around the plant, about 4- to 6-inches deep and 4 to 6 inches away from the plant. Scoot the blade under the clump and lift it out of the ground.
Remove some of the earth from the clump with your fingers so that you can see the roots and the pips, or bulb's well. Each individual plant will have its own pip.
Use a clean, sharp knife or shears to cut through the rootball and separate the lily of the valley plants. Divide the clump into smaller ones of two or more plants each, or into single plants. Leave at least one pip intact for each plant. Don't worry if divisions appear to be small because each stem will multiply itself by three or four each year.
Choose a fertile, well-draining location in partial sun or full shade. Plant the individual lily of the valley divisions about 6 to 8 inches apart at the same soil depth that they occupied previously.
Water the lilies of the valley thoroughly. Moisten the planting area evenly, but don't soak it to the point of being soggy or wet.
Apply a 1- to 2-inch layer of mulch. Leaf mold or fallen autumn leaves work well.
Remove the mulch in the spring after all danger of frost has passed for your area.
Divide lily of the valley once every four or five years.