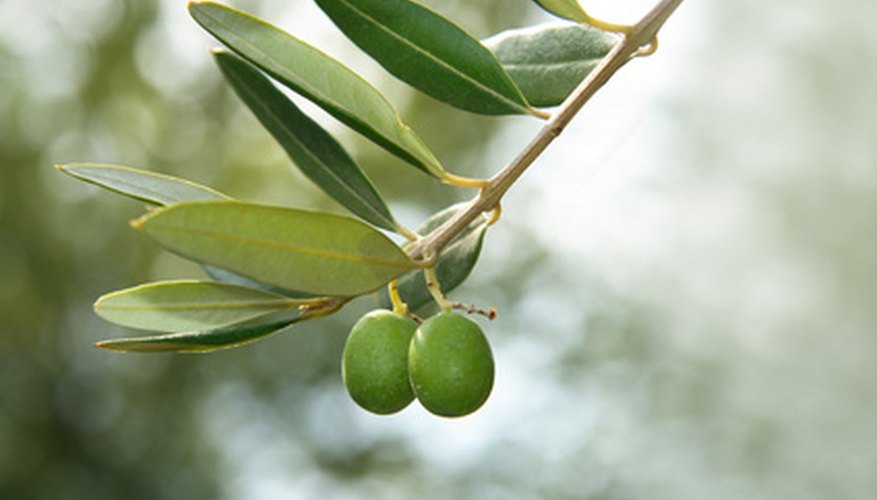 Nestled in the foothills of the Sierra Nevadas, Nevada County has much to offer the olive tree. The warm, dry summers and wet winters provide exactly what the tree needs to thrive. Olive trees can be grown in poor soils, and rocky soils seem to be favorites. Because of the shallow root system, olive trees in Nevada County will need extra irrigation during the hot summer months.
Choose olive trees that are actively growing in pots. Pick trees that are 4 to 5 feet and growing in 1 gallon containers, suggests Master Gardeners with the University of California Extension.
Remove all weeds and turf growing within a 3-foot radius of the planting area. Keep this area weed-free for the first four years that the plant is in the ground.
Dig a hole the same width as the planting pot, and 1/2 inch shallower. Space the plants 20 feet apart if planting multiple olive trees.
Remove the olive tree from the pot. Untangle any roots that are wrapped around the outside of the root ball with your fingers. Cut off any roots that can't be untangled by hand, using scissors.
Place the root ball in the hole and backfill with soil. Place the root crown (where the main stem meets the root ball) slightly higher than the surrounding soil and cover with soil.
Place a soaker hose at the base of the tree and water daily for one hour during the hot summers in Nevada County, more frequently on those days that go above 90 degrees F. Move the soaker hose 24 inches from the base of the tree in its second year.
Apply a 3-inch layer of mulch around the olive tree and spread it out 2 feet in all directions. Keep the mulch 2 inches from the tree's trunk.
Fertilize the olive tree in the spring after new growth appears with an application of compost or a commercial fertilizer high in nitrogen. Follow the package directions as to how much fertilizer to apply. Sprinkle it on the soil below the soaker hose. Do not fertilize the Nevada County olive tree later than early June, when the weather starts heating up.
Remove any suckers (small branches that will appear either from the soil at the base of the tree or on the lower on-third of the trunk). Remove them by hand while they are small. The only other pruning needed in the first six years is to remove any side branches growing 3 feet and below on the tree.