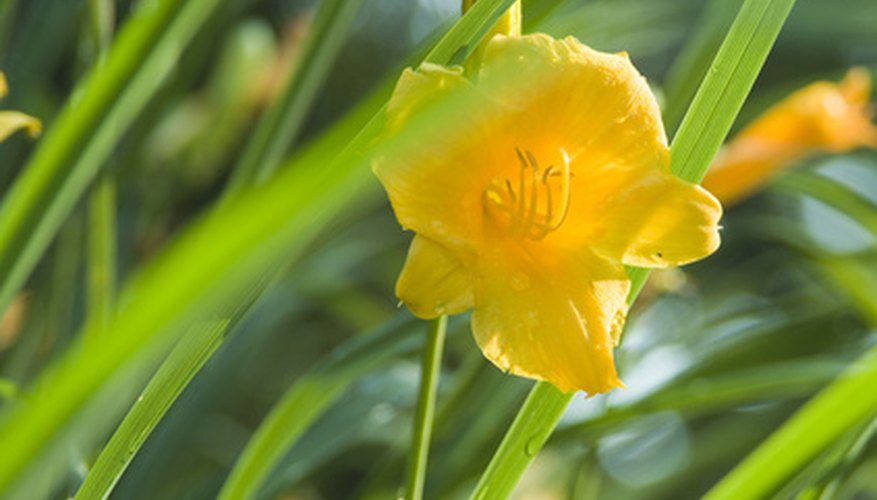 We usually think of hemerocallis in a large border with lily-shaped flowers floating above tall, grassy mounds of leaves. Flower pots for these grand plants would have to be huge. Fortunately, thanks to the introduction of the Stella de Oro daylily by Walter Jablonski in 1975, those with somewhat smaller containers or pots can also plant these one-day wonders. Miniature daylilies have 3- to 4-inch flowers in the same colors and combinations of their larger cousins on plants about a foot tall with a similar spread.
Choose miniature or small daylilies for container growing; any daylily recommended for the front of the border will probably do well in a container. Keep plants that cannot be planted within a few days in the vegetable bin of the refrigerator and soak their roots in tepid water for the morning before planting them. The best time to plant daylilies is in the spring or fall.
Find containers for your daylilies that are at least as wide and deep as the plant will spread and drill drainage holes on the bottom if there are none. Fill containers with commercial potting soil mix or mix your own with equal parts of garden loam, well-rotted compost and peat or manure. Check your soil with a portable pH meter; daylilies like slightly acidic soil with a pH near 6.8.
Spread the roots of each plant and fill the pot with soil around them. Set daylily crowns--the white part of the fan (leaf structure) that meets the roots--no deeper than 1 inch below the surface. Always hold the plant at the base of the fan to avoid tearing leaves or damaging hidden flower stems (called scapes), which can be very small.
Space additional plants at least as far from the daylily fan as the adult plant will spread; 12 to 18 inches for small varieties. Mulch your potted daylilies with Canadian sphagnum moss, compost or shredded cardboard to keep roots insulated.
Water the plant well until water runs out of the bottom of the pot. Daylilies thrive on water and sunlight, so water the soil of your potted daylilies each morning to keep their soil moist. Keep them in shade for the first day or two but find a permanent home for them where they get at least six hours of sunlight.