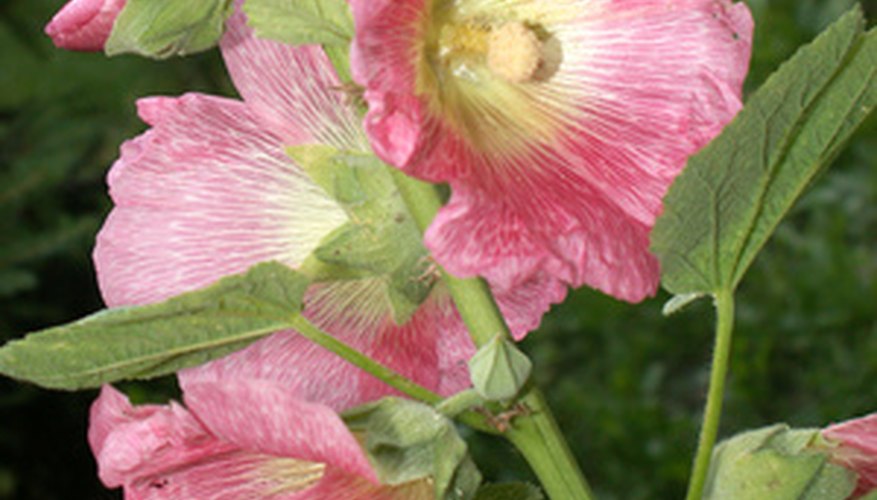 Perennials are the heart of a flower garden, returning and even expanding year after year with minimal ongoing care and maintenance. For areas of your perennial beds which receive full sun through the hot summer months, choose heat-tolerant flowers in an array of colors that will blossom right through the dog days of August.
Yarrow
Yarrow (Achillea spp.) is a family of sun-loving perennials bred from the wild Achillea, a common medicinal wildflower that grows in sunny meadows and roadsides bearing white or yellow umbel flowers and lacy fern-like leaves. The wild yarrow can be grown in gardens, but the domesticated versions come in a wide array of flower colors that withstand summer's fiery heat. The Purdue University Extension recommends two species for July and August blooms: Achillea filipendulina, which grows to 4 feet tall bearing golden yellow blossoms and green-gray foliage, and Achillea millifolium var., which grows to 1 to 2 feet high and is available in blossom shades of pink, salmon and burgundy. Common cultivars include the burgundy flowered "Crimson Beauty," the orange-red "Paprika" and the pale "Summer Pastels." A low growing woolly yarrow (Achillea tomentosa) blooms in June and is a perfect accent for full-sun rock gardens. Yarrows also make excellent, long-lasting cut flowers.
Aster and Goldenrod
Asters (Aster novi-belgii) and Goldenrod (Solidago spp.) erupt into a sea of bright purple and gold flowers, respectively, in early autumn, when most other perennial flowers are winding down their blooming season. Asters and Goldenrod both thrive in full sun and are undeterred by dry spells. Each has cultivars that grow from 1 to 5 feet in height, though the Iowa State Extension notes that most cultivars of these species are shorter and tamer than their wild meadow cousins. Aster cultivars are also available in paler purples and pinks, but the deep purple of the wild varieties makes the most dramatic display with the goldenrod yellows.
Hollyhocks
Hollyhocks (Alcea rosea) are a long-beloved traditional cottage garden flower, blooming against barns, sheds and outhouses throughout much of the northern United States. Hollyhocks grow 5 to 8 feet tall in full sun and will thrive in nearly any soil, according to the Purdue Extension. The old-fashioned hollyhocks have single flowers growing on tall pyramidal spikes, usually in an array of sherbet colors. Individual color strains are now available, including the darkest plum and raspberry shades, and ruffly double flowers resembling peony blossoms add a lighter look to the hollyhock stand. These tall perennials could use some protection from the wind so as not to flop over, so they do grow well against a wall or porch rail. A few stakes with string 3 feet off the ground can ensure that they remain upright.