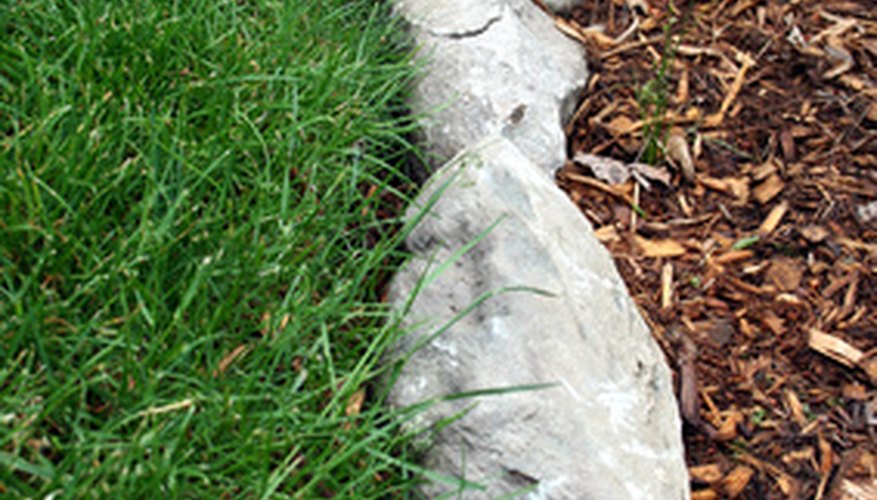 Planning your landscape before you install flower beds helps keep the landscaping maintenance at a manageable level. You also need to fit the landscaping project into your budget. Take inventory of what you already have, then compare it against what you need. Some plants might be used in a different spot, so you can save money by reusing the plants in the new flower beds rather than throwing them away and buying new plants.
Outline the edges of the flower bed with marking paint or a garden hose.
Install the chosen edging, following the paint lines or the hose. There are many types of edging: wood, stone, plastic, rubber, or manufactured fencing in a variety of heights.
Test the soil in the location of the new flower bed to determine whether the bed needs amendments. Purchase a soil test kit at any nursery or big-box home and garden store. Review the results of the soil test, then amend the soil as needed for the type of flowers and plants that will be planted. Amend the soil, if needed, by spreading 3 cubic yards of the needed amendment (compost, lime) per 1,000 square yards of flower bed. Till the amendment into the top 6 inches of soil.
Add plants to the flower bed. If you group plants together, they are easier to take care of, rather than putting one type of plant in several areas of the flower bed. Dig planting holes twice the width of the root ball and as deep as the root ball. Center the plant, then backfill with soil. For most shrubs, scarify the edges of the planting holes with a pitchfork, then fill the planting holes with water before adding the plant and backfilling.
Mulch the garden with compost or shredded bark. Shredded bark adds color to the landscape and makes the flower bed more noticeable. It also helps hold moisture in the ground, which is healthier for the plant and your water bill. Shredded bark also keeps heat away from the roots in the summer and insulates them against cold during the winter.