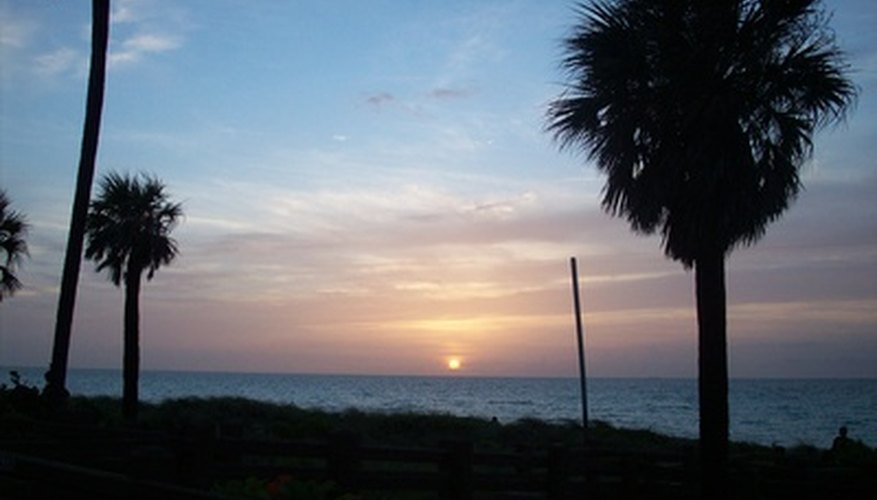 Sunrise-Miami Beach image by Snake eyes from Fotolia.com
In many parts of the country achieving a garden in bloom, year-round, isn't possible, due to harsh winter conditions. But while northern gardeners are stuck inside reading seed catalogs in the winter, the Miami, Florida, gardener is puttering in her yard. Florida native, as well as some non-native plants, will flower year-round in Miami's consistently warm, mild weather.
Downy Jasmine
Downy jasmine (Jasminum multiflorum) is an evergreen vine that is often trained as a shrub in Miami landscapes. The stems and leaves are covered in fine hairs, which make them look like they are covered with soft, gray velvet. The star-shaped, white flowers are not as fragrant as other species, but bloom all year in Miami whether grown in full sun or partial shade. Downy jasmine is frequently used as a vine to cover a wall. As a shrub, it makes an attractive landscape accent, or let it grow to a height of 5 to 6 feet for use as a hedge. Keep downy jasmine under control by pruning it.
Wild Allamanda
Wild allamanda (Urechites lutea) is a Florida native vine. If not trained as a shrub, it can grow to 50 feet, quickly overtaking everything in its vicinity, including trees. If grown in partial shade it will continuously bloom with yellow flowers. The wild allamanda is drought and pest resistant. Horticulturists with the University of Florida say that wild allamanda has "outstanding ornamental features," but you will need to keep the pruning shears handy because this vine will quickly outgrow its trellis.
Firebush
Firebush (Hamelia patens), also known as hummingbird bush, is another Florida native plant. This shrub, growing to 10 feet in height, produces clusters of tubular blooms in red and orange --perfect colors to attract hummingbirds and butterflies. Plant it in partial shade or full sun in your Miami landscape to achieve maximum bloom year-round. Propagation of firebush is easy with softwood cuttings taken in the spring.