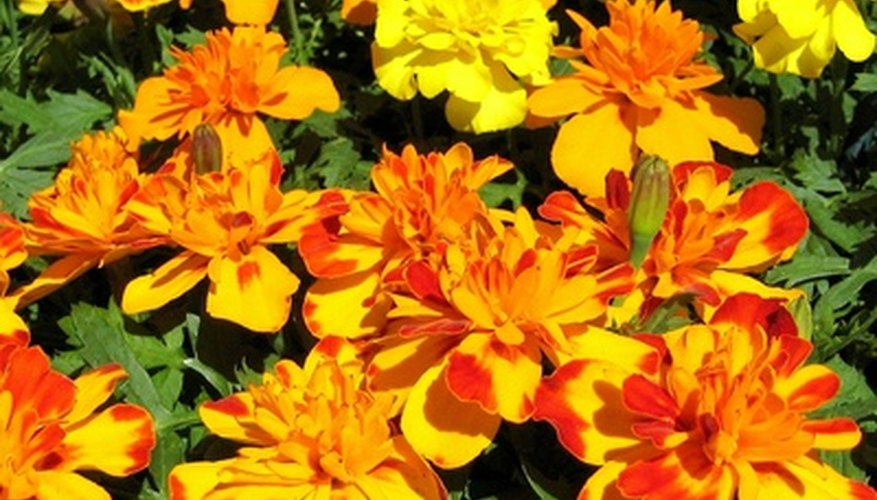 Be they rabbits, deer or root-gnawing nematodes, garden pests can truly wreck havoc on a yard, destroying a gardener's efforts in almost no time at all. While there is no fool-proof system for repelling garden pests, some plants can be of assistance when it comes to tackling these frustrating foe.
Marigolds
Easy to grow and hardy, Marigolds (Tagetes spp.) have long enjoyed popularity, both for their pest-prevention abilities and for their brilliant orange, yellow and red blooms. The roots of Marigolds secrete a substance into the soil that helps prevent root nematodes, a pest that can severely damage or kill other plants. Marigolds are often planted as companion plants in vegetable gardens to help prevent nematodes. Marigolds grow well in full sunlight in almost any soil type.
Anise
Tall growing and stately, Anise plants (Anise hyssop) are attractive flowering perennials that discourage pests such as rabbits and deer with their strong fragrance. The plant boasts brilliant green foliage topped with clusters of brightly colored flowers that are highly attractive to butterflies and hummingbirds. The plant thrives in well-drained soil in either full sun or sun with light shade. Anise offers blooms in the spring to autumn in colors ranging from orange, purple and white, depending on cultivar.
Lavender
Lavender plants (Lavandula spp) are notable for their strong aroma, which is attractive to humans and repugnant to pesky rabbits and deer. Low maintenance and lovely, Lavender plants are summer-blooming perennial shrubs that produce small purple, lilac or white flowers. The drought- and heat-tolerant plant requires full sunlight and well-drained, rocky soil. Lavender is useful as a cut flower, and the dried flowers can be brought inside for their pleasing scent.