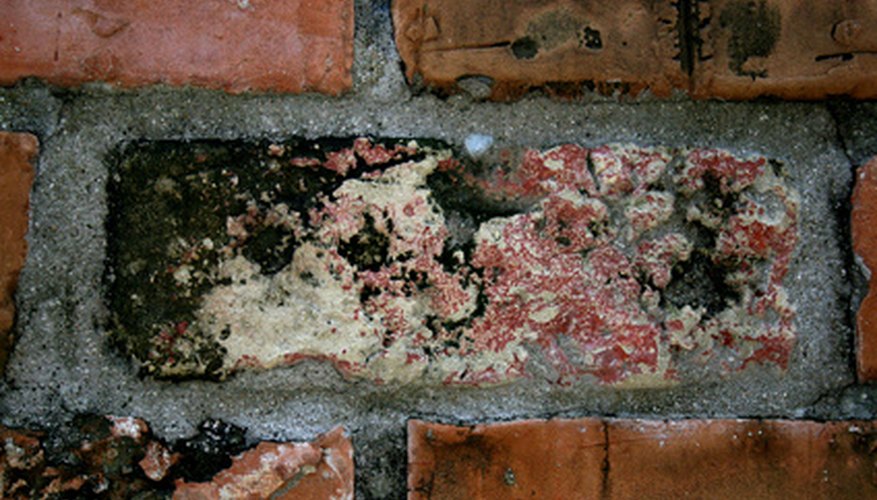 Dress up your outdoor space with a brick planter box. Build it against your house, around a tree or free standing in your front or backyard in a square, rectangular, circular or any other angular shape and size. This classic building material is durable, weather resistant, inexpensive, simple to construct and versatile, and makes the perfect planter box. Depending on personal taste, stack landscaping bricks to your desired height without mortar, or stack regular bricks along with mortar. The resulting rustic planter allows you to grow plants, herbs or flowers of your choice practically anywhere.
Clear your desired area of grass, weeds, stones, rocks and plant debris. Collect these in a wheelbarrow and dispose of them appropriately.
Dig a two- to three-inch-deep trench around the edges of your desired area, in the shape of the planter. Use a square edged shovel. Also lay a length of 2-by-4 over the base of the trench and tamp it so it is level.
Pour water into a batch of mortar mix in a bucket or wheelbarrow, and mix well until it forms the consistency of ice cream. Follow label instructions for the required amount.
Pour mortar into the trench until it is two-inches lower than the surrounding ground. Level the mortar with a hand trowel and leave it to dry for thoroughly for several days.
Spread a thin layer (½ to ¾ inches thick) of mortar over the base of every brick and lower it into the trench. Space bricks of this first course a quarter inch apart, and fill the gap with mortar. Scrape away mortar that seeps from the joints between bricks with a trowel. Use a level to make sure the bricks are in line with each other and even before moving on to the next row.
Lower your second row of bricks over the first one. Stagger this row to create an aesthetically pleasing design. To do this, place the upper corner brick one-half brick length backwards from the one below it. Break a brick in half by positioning a chisel over it and pounding it hard with a hammer.
Apply a ½- to ¾-inch thick layer of mortar over the base of every brick and place it directly over the brick below it. Space bricks on this second course a quarter inch apart, and use your trowel to fill the gaps with mortar. Place a level over the bricks as you work to make sure this row is even and level.
Repeat the process of adding rows of bricks until you reach your desired height. Cap your brick planter by laying sandstone or terracotta tiles over the topmost layer of bricks.