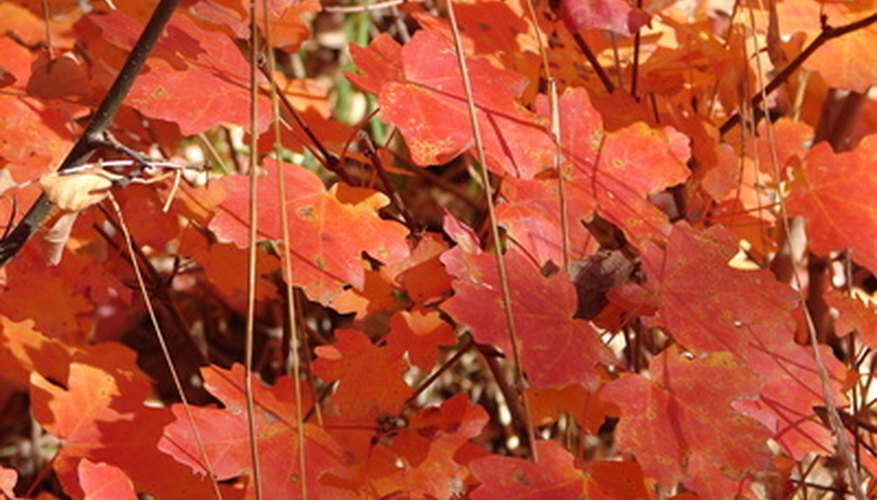 Shade trees, such as the maple, katsura and ash have spreading crowns that provide shade. These trees not only add visual interest to a yard, they can also lower a home's energy bill by blocking the rays of the sun during the summer. When choosing a shade tree to plant near a house, keep in mind the general rule: never plant a tree closer to a house than the ultimate height of the tree. Other considerations include growing conditions and the tree's pest infestation and disease susceptibility.
The Maple Tree
Consider both climate and soil conditions when choosing a maple tree. There are literally hundreds of maple trees from which to choose. The red maple ranges in height from 60 to 80 feet. The sugar maple is taller, from 70 to 100 feet. The trident maple is smaller at 25 to 30 feet, which will allow it to fit under utility wires. The Japanese maple is even smaller at 15 to 20 feet, with nearly 1,000 different cultivars. The maple tree is famous for its autumn color.
The Katsura Tree
The katsura is native to China and Japan. This tree ranges in height from 40 to 60 feet and has a spread 20 to 30 feet wide. The leaves are heart-shaped and are a reddish-purple color when they sprout, turning blue-green during maturity. In autumn, the leaves turn yellow and orange and emit a spicy sugar aroma, according to the "Field Guide to Trees of North America" by the National Wildlife Federation. The katsura is resistant to pests and disease.
The Ash Tree
The ash tree comes in varieties that grow to various heights. The green ash grows to a height of 60 feet and is the most widespread of all American ash trees. The tree is prone to pests, but is relatively free of disease, according to The University of Missouri Extension. The tree will grow well on poor soils, in hot and dry areas and is resistant to storm damage. Choose a seedless variety to avoid seed litter. The velvet ash is another tree used for shade. A medium-sized tree, the velvet ash reaches a height of 40 feet. The tree is named for the gray, velvet down that covers its leaves, stalks and shoots. The black ash is a taller ash tree, reaching 94 feet. The tree is named for its dark heartwood.