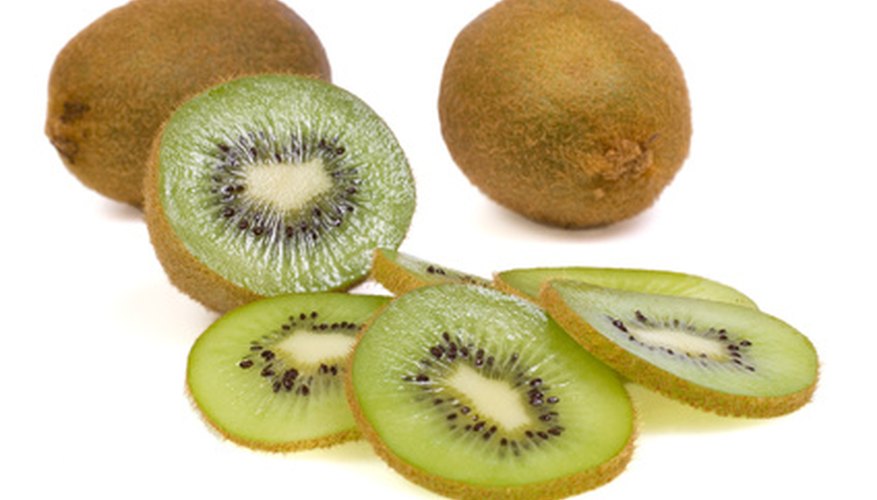 Kiwi plants (Actinidia spp.), also called kiwifruit vines, are native to the mountainous regions of southwestern China. Kiwi vines produce oblong fruits with fuzzy brown skins and bright-green, sweet but tart flesh containing many tiny black seeds. Kiwi vines are frost-tender, sometimes becoming injured by spring temperatures of 30 degrees F. New hardy kiwifruit varieties are much more cold-tolerant, some varieties withstanding temperatures down to -25 degrees. In order to produce fruits, you must plant at least one male kiwi plant with the female plants.
Plant your kiwi vines in spring or early summer. Choose a location that receives full sunlight, has some protection from high winds and has well-draining, slightly acidic soil.
Prepare the planting site by erecting a trellis system, patio cover or similar climbing support for the kiwi vines. Dig planting holes for the kiwi plants that are the same depth as and twice the width of the nursery containers, and that are spaced about 4 to 5 feet apart.
Remove the kiwi plant from the nursery container and set the root ball into the planting hole. Plant the kiwi vines at the same depth as they were planted in the nursery containers.
Backfill the planting holes with the displaced soil and water the soil generously to soak it around the roots.