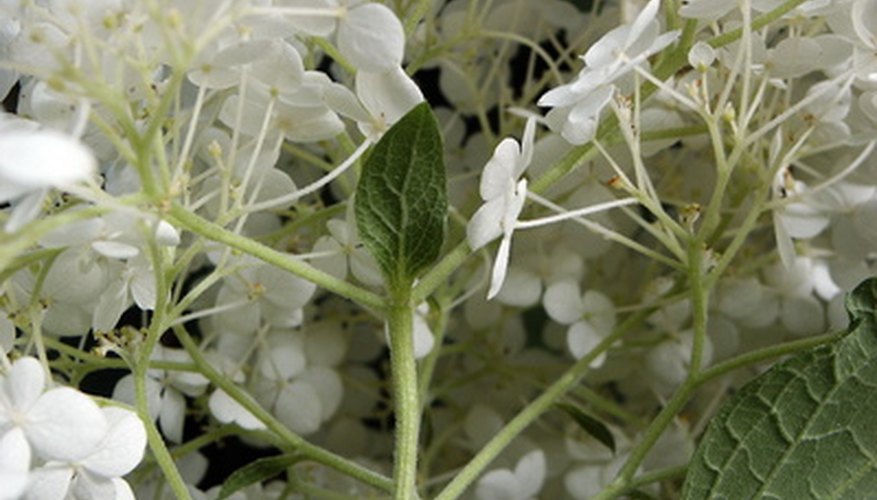 Ah, hydrangeas. They are certainly one of the most popular garden plants in climates that can support them. Pyramid hydrangea (Hydrangea paniculata) is one of the more commonly planted varieties of hydrangea. Gardeners love this plant because of its pyramid-shaped blossoms that bloom in a variety of colors and its thick, bushy growth that makes it a great garden backdrop or landscape plant. The pyramid hydrangea is also relatively easy to care for. With regular maintenance, watering and pruning, your hydrangea will grow healthily and happily for years to come.
Prune your pyramid hydrangea right after you plant it. Use sharp, sterilized pruning shears to prune it back to 1/2 to 1/3 of its original size. This hard pruning will help the pyramid hydrangea grow thick and bushy. Repeat every spring before the hydrangea's growing season starts.
Pinch back the tips of the pyramid hydrangea's new shoots once they grow back 1 to 2 inches. By removing this new growth, you force the buds below the pinch to branch outward and thicken the plant. Repeat this every time the hydrangea produces 1 to 2 more inches of new growth for the rest of the growing season. It will not bloom this year, but next season it will be a thick, healthy plant with an abundance of pyramid-shaped blooms.
Fertilize the pyramid hydrangea in early spring before the season's growth begins and again in summer once the plant is done blooming (after it has been in the ground at least one year). Use a balanced (10-10-10) slow-release shrub fertilizer. Follow the manufacturer's instructions for application rates for a plant of your hydrangea's approximate size.
Water your pyramid hydrangea once weekly or whenever the top 4 inches of the soil dry out. Water deeply so that the soil is moist but not soaking.
Things You Will Need
Pruning shears

Fertilizer

Water