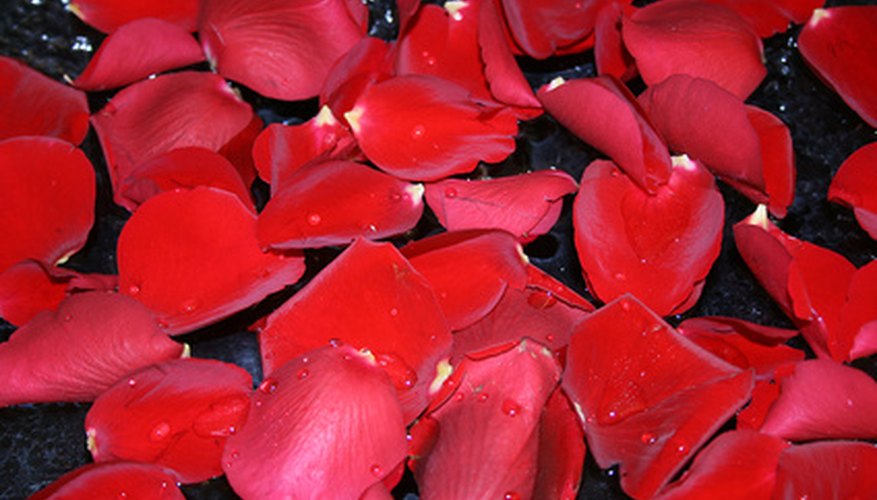 Both fresh and dried rose petals can add beauty and delightful scents to your home in a variety of different ways. Because not all rose varieties have a strong rose scent, and many lose their scent after drying, select your roses carefully. If you grow these richly scented rose cultivars in a landscape area, you have the benefit of a plentiful supply of fresh roses for harvesting rose petals.
Clip the rose blossoms from the rose plants when the blossoms are at their height of perfection. Cut the blossoms from the plants leaving three-inch stems. If you do not grow these cultivars, purchase them from a florist.
Remove the rose petals from the rose blossoms by pulling them gently off with your fingers. Place the rose petals into the shallow dish as you remove them. Because the rose petals will contract as they dry, remove three or four times more fresh rose petals than the dried rose petals you will need.
Spread the rose petals in a thin layer in the shallow dish and leave them to dry in a warm location with ample air circulation. Fluff up the petals with your hands every day to rearrange the petals in the dish as they dry. When the rose petals feel completely dry and papery, they are sufficiently dry.
Add three drops of rose essential oil for every two to three cups of dried rose petals, and mix the essential oil into the rose petals to coat each of the petals lightly with it.
Cut 10-inch squares of tulle to make sachets. Place approximately one cup of dried rose petals into the center of the tulle square. Pull up the corners and edges and tie the tulle together over the dried petals with an eight-inch length of ribbon. Tuck the sachets into linen closets, dresser drawers and bathroom storage places.
Place dried and scented rose petals into pretty glass bowls. Set out the glass bowls full of scented potpourri in various places around your home to add rose scents to your home.