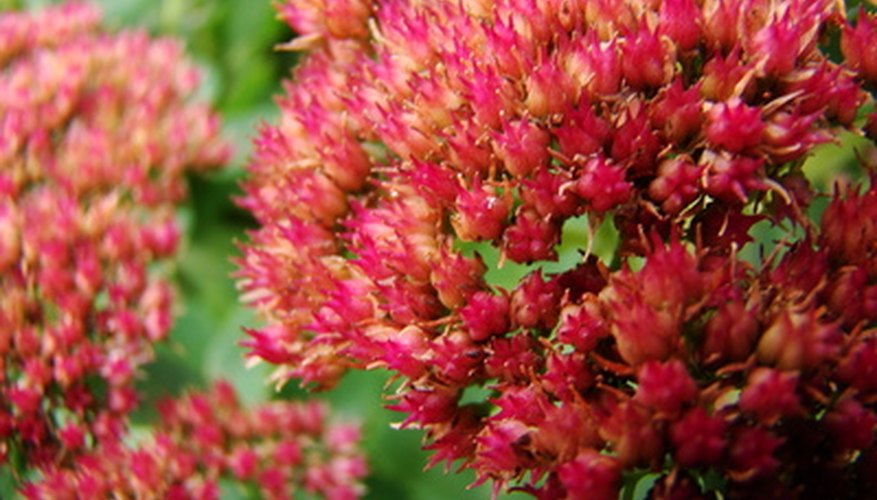 Sedum is also called stonecrop. This clumping perennial reaches 2 feet tall. Blue-green, succulent leaves are oval-shaped with toothed edges. Pink-green stems loom over the leaves in summer topped with clusters of tiny star-shaped blossoms. Sedums will die back to the ground if touched by freezing temperatures, but they sprout back from the roots in the spring. Sedums planted in pots are moved into protected areas when the weather turns cold. Container sedums are used on patios and balconies.
Wash a container that is at least 18 inches wide with soapy water. Rinse the plant pot with 1 part bleach and 9 parts water. This gets rid of any hiding insect pests and plant disease. Drill holes in the bottom of the container if there are no drainage holes.
Mix together equal parts of sand, potting soil and peat moss. This creates a good-draining soil rich in organic materials.
Fill the container with soil to within 2 inches of the rim. Dig a hole in the center as deep as the root ball with a hand trowel. Remove the sedum from the starter pot and place it in the hole.
Fill the hole with soil and firm it around the plant. Pour water into the plant pot until it runs out the bottom of the container.
Spread 1/2 inch of pea gravel around the base of the plant. This will cut down water evaporation and keep the soil warm. Place the sedum pot in a site with full sun or light afternoon shade.