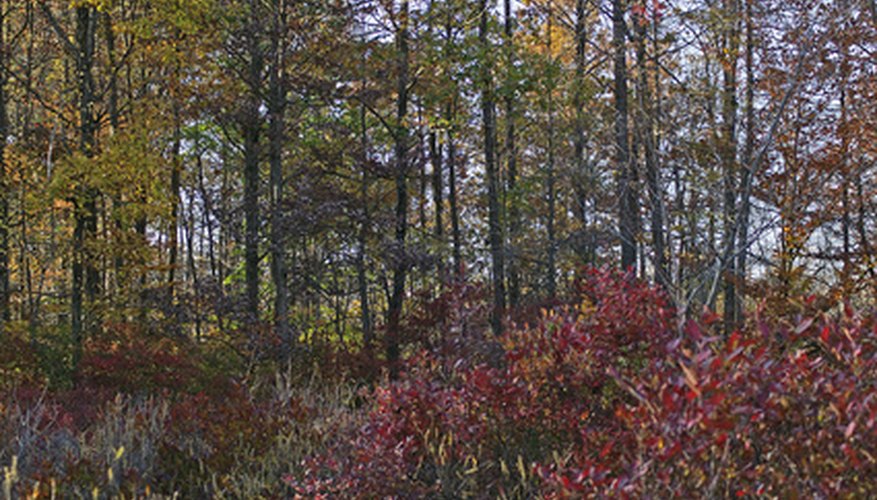 Though heavily industrialized, New Jersey is a state where wild plants still thrive. Pines and cedars thrive in the sandy soil of its Pine Barrens. Oaks, maples and birches bring summer shade and fall color across the state. Spring means woodlands filled with blooming rhododendrons and azaleas. Wild meadow grasses provide seeds and nesting materials for the Garden State's wildlife. Many of New Jersey's plants and flowers make effective additions to home gardens.
Sweetbay Magnolia
Sweetbay magnolia (Magnolia virginiana) is a small--12-to-20-foot--flowering tree native to the woods and swamps of New Jersey's coastal plain, according to the New Jersey Pinelands Commission. It has multiple smooth-barked trunks and horizontal branches. A spicily sweet aroma emitted from its crushed twigs and leaves accounts for the tree's name. Its 3- to 6-inch leaves have dark green surfaces with white undersides, turning purplish-bronze in fall. Between April and July, sweetbay magnolia has profuse, fragrant white blossoms. Closing at night, they bloom for up to three days. Conical bright red fruits with exposed red seeds follow the flowers.
This slowly growing tree, advises the Texas A&M University Lady Bird Johnson Wildflower Center (LBJWC), is an effective specimen or patio planting. Plant it in a partly shady location with rich, moist, acidic--pH below 7.0--soil. It handles all soil type from sand to clay.
Broomsedge
Broomsedge (Andropogon virginicus) is a perennial clumping grass from 2 to 5 feet high. Common along New Jersey's pond edges and in dry fields and woods, it's useful for erosion control and as a home garden ornamental, according to the Pinelands Commission. Yellow seeds along its stems make this grass especially attractive during autumn and winter, when its green leaves become golden brown. Seeds and foliage feed and shelter New Jersey's birds and wildlife. Broomsedge, says the LBJWC, prefers partly shady locations with dry, sandy or loamy soil.
Cardinal Flower
Cardinal flower (Lobelia cardinalis), a hummingbird favorite, is common along New Jersey's lakes, stream banks, roadsides and woodland edges. Standing between 1 and 6 feet tall, it straight stems have lance-like green leaves. The foliage contrasts effectively with cardinal flower's 8-inch spikes of brilliant red tubular blooms. Plants flower from May to October. Their long blooming season has made them a popular addition to home gardens.
Cardinal flower, says the LBJWC, requires moist to wet soil and is effective in woodland gardens. It grows in sun to shade and prefers humus-rich loam. Protect it from the worst of New Jersey's winter temperatures with a layer of mulch. Increase your plants by securing their low branches to the ground until they root. Note that all parts of this plant are toxic if eaten in large amounts.