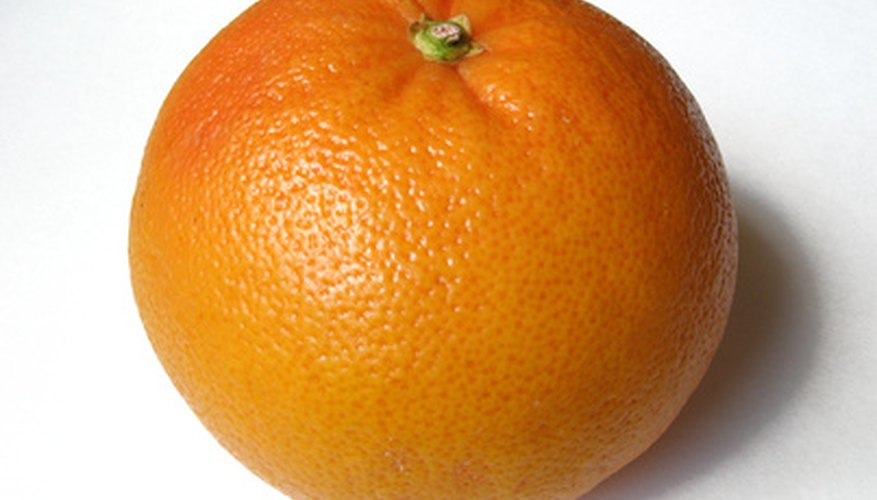 The grapefruit (Citrus x paradisi) has been called "forbidden fruit," "toronja," "pomelo," "little pummelo" or "little shaddock." Grapefruits are one of the few types of citrus that grow true from seed and actually perform well on their own rootstock, although slow growing and taking years to finally produce their first fruits. Fruits often take more than a year to tree-ripen, but the heat of the desert garden develops a nice flavor, ready for picking in 9 months. Grow these trees in USDA hardiness zones 9 through 11, where only light winter frosts may occur.
Origins
The grapefruit plant was first botanically described in 1750 growing on the island of Barbados. It is the accidental but natural hybrid resulting from crossing the pummelo (Citrus maximua) with a sweet orange (Citrus sinensis). Many regard it as the only "New World" citrus.
Description
An evergreen tree with waxy oval leaves, the grapefruit grows slowly. Its smooth gray trunk and branches hold a rounded but spreading canopy. A few thorns occur on the twigs. The fragrant white flowers, up to 2 inches in diameter, occur heavily in spring, followed by the formation of yellow fruits that are round or pear-shaped. The fruits linger on the tree well over a year before become fully ripe, as summertime heat hastens development and creates the sweetest flesh.
Varieties
Many different varieties of grapefruits have been selected over the years for their fruit size, flavor or color. 'Duncan' is among the most frost-tolerant trees, yielding grapefruits with white flesh. Other white-fleshed types include 'Marsh' and 'Oroblanco'. Pink grapefruits arose in Florida, the result of a mutation that was propagated by grafting. Dark pink to red-fleshed fruits developed in Texas and are generally called "ruby reds." Examples of these varieties are 'Star Ruby', 'Rio Red', 'Mexican Red' and 'Redblush', which is called 'Ruby Red' by Texas citrus growers.
Modern grapefruit varieties are also now genetically crossed back to other citrus species for interesting fruit flavors and qualities. Both the pummelo and Mandarin orange (Citrus reticulata) are used to create these intriguing new grapefruit cousins such as 'Melogold' and 'Cocktail', respectively. They are often marketed and sold as grapefruits.
Growing Requirements
Plant grapefruits in deep soil with good drainage so that it doesn't flood or remain soggy after rains or irrigation. Soils slightly acidic to slightly alkaline (pH 6.0 to 8.0) are acceptable. Salty soils lead to nutrient deficiencies. Full sun exposure, more than 8 hours of direct sunlight daily, is needed for healthy foliage, flowering and fruit production. According to Purdue University, annual rainfall in the amount of 36 to 44 inches evenly spread across the year is ideal. Grow them outdoors in areas that have long, hot growing seasons and cool winters, hopefully with no frosts. Cool summer temps cause fruits to be much more tart in flavor, and excessive humidity leads to thin rinds.
Uses
Even if a crop of tasty fruit never occurs, the grapefruit tree is an attractive small shade or flowering tree for subtropical gardens. Space grapefruits with ample room for their canopies; they are slow-growing and look like orange trees, which may be planted more closely together than grapefruit trees. Cut down trees or removed branches make excellent firewood. Rinds can be candied and supply a source of pectin. Crushed seeds yield a bitter oil for cooking. Drink the juice fresh or make it into wine or vinegar.